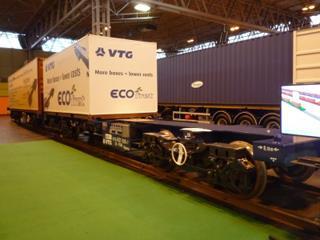 UK: A prototype three-section flat wagon designed specifically to carry 40 ft deep-sea containers was unveiled by European wagon leasing group VTG Rail at the Multimodal 2012 show in Birmingham on May 2.
The close-coupled three-platform vehicle can carry a single 40 ft container on each of the outer platforms and a pair of 20 ft boxes on the inner unit, with a tare load of 21 tonnes and payload of 36 tonnes per platform. The vehicle is carried on six Barber 20.5 track-friendly bogies purpose-designed by SCT. These are expected to offer significantly better ride quality and wheel life than the older Y33 bogie. With a standard platform height of 980 mm above rail, the EcoFret can carry 9 ft 6 in high containers within the UK's W10 loading gauge.
Following testing in Germany last year against various TSI requirements including noise, the prototype is expected to be approved for operation within the next few weeks. VTG has already ordered a series build of 43 twin-section vehicles, which are being assembled at Greenbrier Europe's Swidnica plant in Poland for delivery between August and November. These are being leased to Freightliner Ltd, which is branding them as Shortliner.
Freightliner believes that the shorter wagons will offer a more efficient use of train length than its current fleet of 60 ft vehicles, where today's ratio of 40 ft to 20 ft boxes means that many 60 ft platforms are only carrying one 40 ft box. As well as increasing the payload, eliminating the empty spaces should also improve the aerodynamics for intermodal trains running at up to 120 km/h, according to VTG.