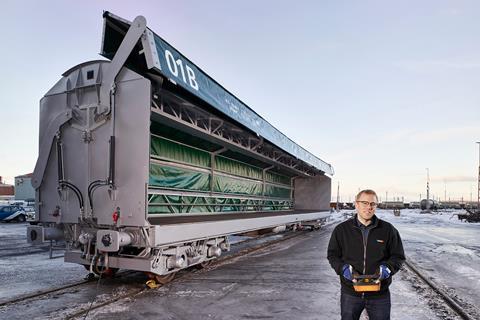 SWEDEN: A prototype wagon design which allows the entire 20 m long side to be opened vertically to provide a large and unobstructed space for efficient loading by forklift is being tested by pulp producer Södra Cell Värö. Series production of 22 wagons is planned.
'A large load opening such as this is revolutionary', said Martin Malmelöv, Manufacturing Manager at supplier Kiruna Wagon. 'Wagons of this type generally have sliding doors or support columns that limit accessibility and run the risk of being damaged.'
The Side Loader XL has a hydraulically-opened high-strength steel truss construction, with a durable and flexible tarpaulin outer surface to keep the weight low.
The wagon provides a total loading area of 51 m2 and a loading weight of approximately 51 tonnes. Kiruna Wagon said regulations in most EU countries limit lorries to a 33 m2 loading area and 24 tonnes of cargo, while Sweden allows the domestic use of lorries with trailers offering a capacity of 46 m2 and 36 tonnes.
'If the railway industry is going to be attractive as an environmentally friendly alternative to road transport, loading and unloading needs to be highly efficient', said Malmelöv. 'With this wagon, you can remotely open the entire length of both long sides and access the goods in a way that just isn't possible in a lorry. It's also possible to unload entire train sets simultaneously. The large loading door creates conditions comparable to working in a warehouse.'