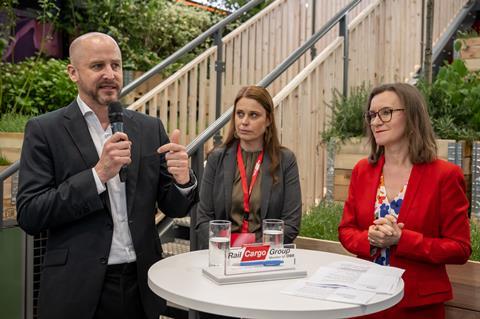 EUROPE: 'Thank you for being the driving force behind Rail Freight Forward over the past five years', DB Cargo Chief Executive Sigrid Nikutta told her counterpart at ÖBB Rail Cargo Group Clemens Först as she took over as the Chair of the coalition at the Transport Logistic trade fair in München on May 10.
RFF was launched in December 2018 at the UN climate conference in Katowice. It brings together 14 European rail freight operators and four associations, who have adopted a target of boosting rail's share of the freight transport market in Europe from 18% to 30% by 2030.
Reflecting on his tenure, Först told the assembled guests that 'we have a clear technological roadmap' to reach a 30% market share by 2030. He reminded the audience that in other parts of the world rail played a much greater role in the transport mix. 'Even in the "truckers' paradise" of the USA, rail has around a 50% market share. We have much more to do in Europe, and after five intense years, we cannot stop now.'
Herculean task
'Rail is in Europe's DNA', Nikutta emphasised. 'With more than 260 000 km of rail lines, Europe has the largest continental environmental network in the world. The task now is to digitalise the proven and resilient mode of rail freight and further expand rail capacity.'
Warning that 'no one operator or railway can transform the rail mode on their own', she urged policymakers to support key digital and capacity enhancement initiatives such as the roll-out of ETCS and the Digital Automatic Coupler as part of a holistic strategy to combat climate change. 'These innovations must all be linked together to grow rail capacity. Modernising rail is a Herculean task that cannot be left to the transport companies or the rules of the market alone.'
Capacity trumps interoperability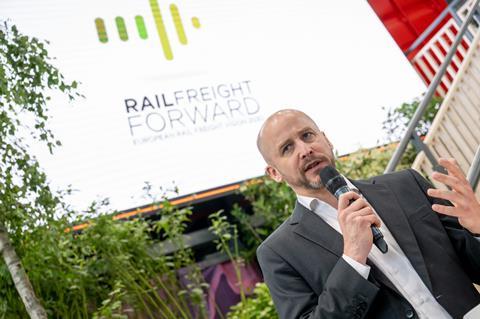 Reflecting on the progress made by the alliance over the past five years, Först noted that there had been shift in priorities across the sector away from emphasising interoperability to focusing on capacity. 'In our view, interoperability is a kind of "nice to have", but capacity is life or death', he warned. Nikutta agreed that capacity 'was the most crucial issue' as 'our customers really want to shift more traffic to rail'. But 'we need more paths and more terminals'.
In light of the macroeconomic and geopolitical turbulence of the last few years, Först believed that rail freight's public image had been significantly enhanced by its vital role keeping supply chains moving during Covid-19 and to and from Ukraine during the ongoing war. 'Public awareness has definitely helped our sector', he felt. However, he warned that numerous obstacles remain to be cleared if the '30 by 30' target is to be reached, citing the example of rising electricity prices, 'which is especially damaging to wagonload operations and is certainly driving modal shift from rail to road at the moment'.
'The goal of a 30% modal share for climate-friendly rail freight can be achieved in just a few years', Nikutta concluded. 'It can be done if there is support at European level for the huge task of expanding the network and upgrading to digital standards in rail freight.'
Rail Freight Forward signatories
BLS Cargo
ČD Cargo
CFL Cargo
DB Cargo
Green Cargo
Lineas
LTE Logistics
Mercitalia Intermodal
Ost-West Logistics
PKP Cargo
Rail Cargo Group
SBB Cargo
SNCF Logistics
ZSSK Cargo
CER
ERFA
UIC
VDV