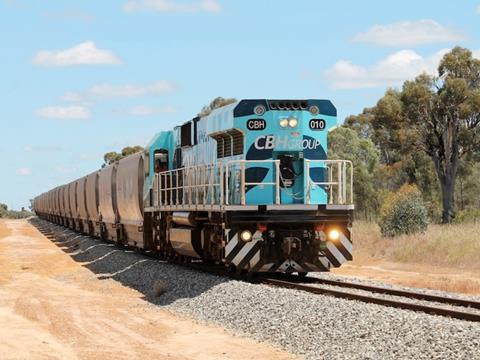 AUSTRALIA: A package of infrastructure enhancements has been put forward by the Western Australia state government in a bid to attract more agricultural traffic onto rail.
The Revitalising Agricultural Regional Freight Strategy published on June 29 is intended as 'a blueprint for strategic investment' in various regions, explained Transport Minister Rita Saffioti. It would 'provide a strong plan for investment' in agricultural freight supply chains that will assist in WA's economic recovery following the impacts of the Covid-19 pandemic.
Building on feedback from a draft report issued in June 2019, the strategy identifies '20 priority packages' covering rail and road improvements as well as the establishment of intermodal terminals. The state government intends to prepare a submission to Infrastructure Australia seeking federal support for the priority projects, with Saffioti noting that work was already underway on a number of schemes.
Rail projects include track improvements on several lines including Perth – Geraldton, Mullewa – Perenjori, Albany – Hyden and Esperance – Salmon Gums, as well as routes serving the state's wheat growing areas.
In 2014 the state's rail network was categorised into three tiers based on infrastructure condition and traffic volumes. Safioti said the government was working with network manager Arc Infrastructure and grain train operator CBH 'to progress business cases for Tier 1 and Tier 2 railway packages identified as a priority'.
Many of the Tier 3 grain lines are currently mothballed, but the strategy recommends a review of these corridors and the inclusion of some lines in the National Land Transport Network. Last month the state commissioned an engineering assessment 'to advise on the cost and time required for potential rehabilitation' of these branches, with Saffioti commenting that 'we recognise there is a lot of sentiment around the Tier 3 lines'.
Meanwhile, the government has started public consultation on a draft South West Supply Chain Strategy, intended to prioritise road, rail and port infrastructure investment in the region over the next 10 to 15 years. This recommends a range of rail capacity enhancement projects, including double-tracking, new passing loops and additional terminal facilities, including a reconfiguration of the rail link to Bunbury Port and the introduction of container trains between Bunbury and Perth.