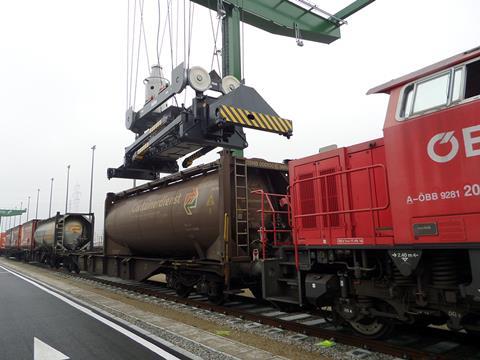 AUSTRIA: Rail Cargo Austria has begun test running at the Wien Süd freight terminal, ahead of the official opening on December 5 of what is planned to be Austria's biggest import and export transshipment hub.
Built by ÖBB-Infrastruktur over a three-year period, the multi-functional terminal includes an intermodal facility with four tracks and two gantry cranes. The terminal and is served by a dedicated junction on the S1 motorway.
Rail Cargo Austria is currently running one train per day into the site, to test the handling of different types of freight and the interaction of the various terminal systems.
'What we are seeing here is the birth of an ultra-modern freight hotspot, which will turn the Wien region into a hub connected to Europe's economic centres and major sea ports', said ÖBB-Infrastruktur management board member Franz Seiser on November 15.