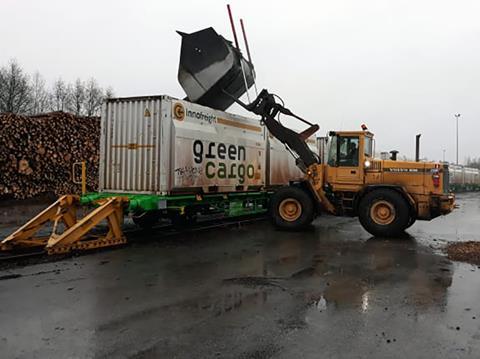 SWEDEN: Forest owners association Mellanskog has awarded Green Cargo a contract to transport containerised woodchips which previously moved by road.
The trains between Forsbacka and Folkesta are formed of 22 wagons each loaded with three containers holding 45 m3 of woodchips and weighing 14·5 tonnes.
'It is gratifying to bring in a new customer who is switching its operations over to more climate-smart transportation', said Green Cargo Sales Executive Johan Roswall. 'This agreement structure favours customers like Mellanskog, who have seasonal deliveries. This structure enables several forestry customers to purchase space on the same single commodity train. The shipments run between the terminals and on the days specified by the customer, which yields increased flexibility.'
Ann-Britt Asplund, Head of Logistics at Mellanskog, said the organisation currently sends large volumes by rail, and its ambition is to continually increase this 'for the environment, but also to be able to offer our members the best overall deal'.