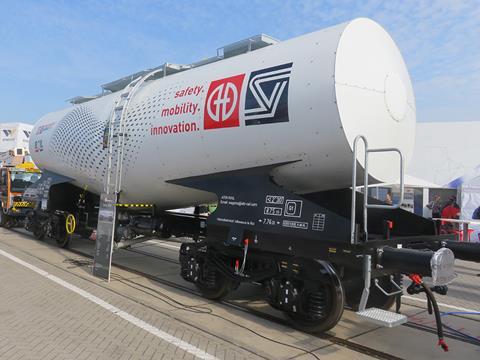 Đuro Đaković Specijalna Vozila signed a €7·2m contract on October 3 covering the supply of additional Zacns calcium carbonate tank wagons to a French customer during the first half of 2017.
Australian operator SCT Logistics ran its first 'official' train from the new A$18m Logic Intermodal Terminal at Wodonga in northern Victoria on October 13, ahead of a formal opening ceremony which is planned for January 2017
The transport ministers of the German Länder of Nordrhein-Westfalen Hessen, Baden Württemberg, Brandenburg, and Sachsen-Anhalt have called on the federal government to implement measures needed to permit the wider operation of 740 m freight trains.
Kazakhstan's KTZ Express and Russia's COALCO have signed an agreement to design and build the €151m Centralny suhoy port freight terminal near Moscow's Domodedovo airport and the motorway network. It is scheduled to open in 2019, with initial traffic of 150 000 TEU/year increasing to 400 000 TEU by 2024.
Latvian national railway LDz, its freight business LDz Cargo Loģistika, Russian, Belarus and Kazakh joint venture United Transport & Logistics and Belarusian logistics company BTLC have agreed a uniform tariff for freight from the Chinese border to the Latvian ports of Riga, Ventspils and Liepaja. LDz also offers a uniform tariff for transport to Scandinavia.
The national railways of Kazakhstan, Azerbaijan and Georgia have signed a memorandum of association to establish the Astana-based International Association of Trans-Caspian International Transport, which will aim to attract freight traffic to international routes via the Caspian Sea. Azerbaijan Railways has also opened an office in Astana.
National railway LDz has been appointed to lead Latvia's plans to attract China – Scandinavia freight to its Baltic ports, following the signing of a MoU for co-operation last month by Minister of Transport Uldis Augulis and Erich Staake, CEO of German inland port operator Duisport.
Panama City Port Authority in the US state of Florida has appointed Genesee & Wyoming's Bay Line Railroad to operate a transloading facility at the port's intermodal distribution centre, where bulk shipments arriving by rail will be transferred to road for the final 25 km to the port. The Bay Line Choice Terminal is expected to begin operations in November, with a 20-wagon yard, warehousing, FedEx Ground distribution centre and space for industrial development.