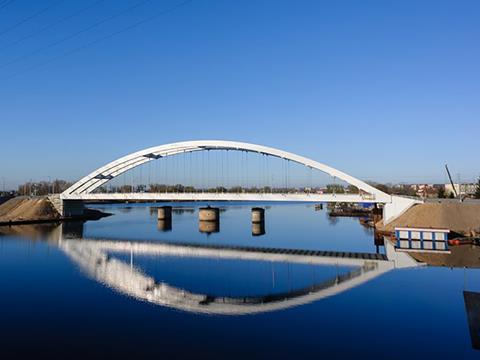 PKP PLK has completed a 370m złoty modernisation and double-tracking of the rail connection from Pruszcz Gdański to the Port of Gdańsk, including the installation of a 120 m bridge to eliminate speed restrictions and enable vessels with triple-stacked containers to pass beneath the line.
LogServ has taken delivery of a Zagro road-rail vehicle for shunting at Voestalpine's Linz site. It can haul 25 wagons, has automatic engine start-stop and is fitted with remote control equipment allowing it to be operated by crane drivers.
Halliburton and US Silica Holdings have moved what they say was 'the largest frac sand unit of its kind shipped to date in North America', carrying nearly 19 000 tons of US Silica White frac sand from Ottawa, Illinois, to Elmendorf, Texas via BNSF. 'Unit train delivery, leveraging our combined logistical assets, is the most efficient and cost effective way to deliver high volumes of sand in the time constraints required', said Don Weinheimer, Senior Vice-President and President of Oil & Gas for US Silica.
Samskip now offers five intermodal train departures a week and a three-day transit time between Perpignan and Rotterdam. This replaces the Duisburg – Bettembourg service, with connections to Lyon and Le Boulou, which was discontinued on October 1.
On October 12 the first regular container service from Shenyang in China arrived at Yekaterinburg in Russia, carrying 50 containers from Guangzhou, Shenzhen, Xiamen, Ningbo, Shanghai, Tianjin and Qingdao containing products including telecoms and construction equipment, power tools and consumer goods. The weekly service leaving Shenyang on Wednesdays is operated by RZD's TransContainer and Swift Multimodal Rus.
Rail Cargo Group is to add an extra eight daily rolling motorway trains on the Wörgl – Brenner route from November 1, taking the total to 38.