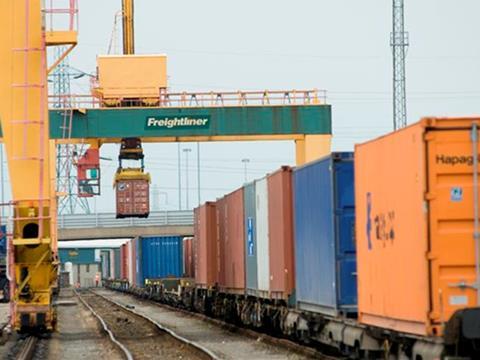 Rail freight traffic in North Korea in the three months to September 2016 was reported to be up by 1 million tonnes on the same period last year, following to efforts to repair locomotives and wagons, improve terminals and reduce wagon turnaround times.
Russian Railways ran a trial 12 600 tonne freight train from Petrov Val to Maxim Gorky near Volgograd on October 20, using VL-80 locomotives at the head and centre of the train. The trial aims to asses the feasibility of plans to couple pairs of freight trains together to maximise available track capacity during maintenance work to be undertaken on the Saratov – Volgograd route in 2017-19.
Freightliner has awarded Briggs Equipment a £3·5m contract to supply and maintain 10 Hyster RS4531CH reachstackers for use at its UK inland intermodal terminals. Wireless monitoring systems will enable Freightliner to track asset activity and individual driver performance to promote best practice.
Bulgarian infrastructure manager NKZI expects to open the Todor Kableshkov intermodal terminal at Plovdiv in December, following the completion of construction at the end of October. The facility has space for 23 lorries and 20 smaller vehicles, and 3 km of track including 2·4 km which is electrified. The 14m leva project was supported by EU Regional Development co-financing, with construction undertaken by TreysGrupHold and supervised by Rubicon-Test.
PKP Cargo has awarded PKP Energetyka a 861m złoty contract to supply traction electricity from October 27 2016 until the end of 2018.
Container Corp of India Ltd launched a daily Mundra Link Express timetabled container service from the Tughlakabad terminal in Delhi to the Port of Mundra via Kathuwas on October 27.
Following the operation of four trial trains since May, a regular weekly freight service was launched between Lanzhou in China and Kathmandu in Nepal on October 31. Containers are transported 2 431 km from Lanzhou to Xigaze by rail and then continue by road, with transhipment between Chinese and Nepalese lorries at the border. The journey time of 10 days is around 35 days faster than by sea via Kolkata.
Far East Land Bridge has launched a weekly freight service from Guangzhou to Moscow, leaving the Chinese city every Saturday and offering a transit time of 14 to 17 days thanks to 'limited' border checks and the use of dedicated trains and FELB's own containers. FELB plans to launch a less than container load service on the route this month, and expand the service to destinations including Yekaterinburg and Novosibirsk.