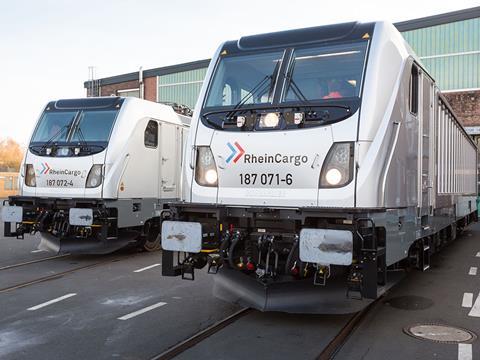 RheinCargo has taken delivery of the first three of 10 Traxx AC3 Class 187 electric locomotives ordered from Bombardier Transportation. The rest are scheduled to arrive from the manufacturer's Kassel plant by the end of the year.
It is reported that services on Syria's 65 km coastal line between the port of Tartus and Jableh have been reintroduced after repairs supported by Russia. This is expected to reduce transit time by a half compare to road haulage, and significantly increase capacity. The next section of line towards Latakia is also to be rehabilitated, and there are plans to reinstate the line to Homs.
Rhätische Bahn has transported more than 200 containers of equipment for the St Moritz 2017 FIS Alpine World Ski Championships between road freight transfer facilities in Landquart and Samedan.
Puma Energy has awarded GB Railfreight an extendable two-year contract to haul fuel from Immingham docks to inland terminals at Bedworth and Theal.
On November 11 the first weekly direct train ran from the Port of Qinhuangdao in China's Hebei province to Ulaanbaatar in Mongolia, carying 100 containers which had arrived from Incheon in South Korea by ship.
A five-year modernisation of TransContainer's intermodal terminal at Krasnoyarsk in Russia has been completed at a cost of 1bn roubles, doubling its size to 55 000 m2 and increasing capacity from 75 000 to 200 000 TEU/year.