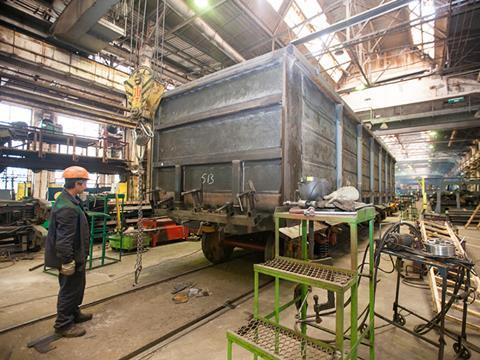 Ukrainian Railways has awarded KVSZ a contract to supply 350 Type 12-783 open wagons.
German Transport Minister Alexander Dobrindt has announced draft legislation mandating the use of low-noise wagons complying with EU legislation from December 2020. Proposed exemptions include running non-compliant wagons at lower speeds.
PKP Cargo subsidiary Cargotor has received €3·2m of Connecting Europe Facility funding for the modernisation of the Małaszewicze transhipment point between 1 520 and 1 435 mm gauge tracks near the Belarus border. This is expected to triple capacity and also improve safety.
Germany's Federal Court of Auditors has called for the government to cease its financial support for the pilot 'megahub' with automated container sorting now under construction in Lehrte near Hannover, saying that a single pilot project in Duisburg would suffice. DB and the Federal Ministry of Transport still expect test operation to start in 2018.
Infraestruturas de Portugal has completed a €270 000 project to improve access to the TVT intermodal terminal on the Lisboa — Porto main line south of Entroncamento, providing a new connection from Riachos station that will be used by diesel-hauled services from the south of Portugal.
Following a five-year trial allowing lorries up to 25∙5 m long on motorways and designated trunk roads, German Transport Minister Alexander Dobrindt said in November that regular operation would be permitted from January 2017. Rail association Allianz pro Schiene fears that this may encourage freight to shift from rail to road.