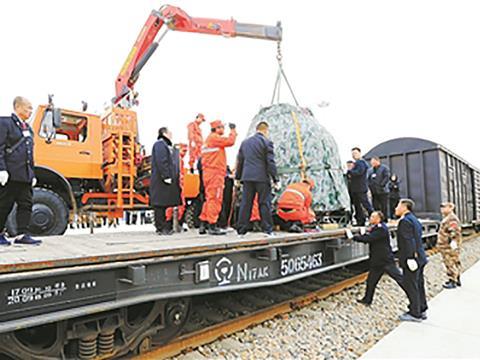 After returning to Earth at the Siziwang landing ground in Inner Mongolia following 33 days in orbit, the Shenzhou 11 re-entry capsule from China's sixth manned space mission was transported to Beijing on a China Railway Corp flat wagon with special brackets.
G3 Global Holdings has appointed Peter Kiewit Infrastructure to design and build a high capacity grain export terminal at the Port of Vancouver for opening in 2020. This will include a rail loop capable of holding three 134-wagon trains which will be unloaded while moving. 'Our Vancouver terminal is central to G3's vision of a coast-to-coast grain handling network that sets a new standard in efficiency', said G3 CEO Karl Gerrand. 'We plan to transform the movement of grain through the west coast, providing Canadian farmers with competitive pricing and reliable delivery opportunities.'
OT Logistics has finalised the purchase of 100% of Polish freight operator STK for 35·5m złoty and 80% of Kolej Bałtycka for 3·4m złoty.
The International Union of Wagon Keepers and International Union for Road-Rail Combined Transport are among the 21 associations representing various freight modes which have established the Industry Alliance for Multimodal Connectivity & Logistics for Growth to provide industry input to EU decision-makers, TEN-T corridor co-ordinators and relevant EU agencies. 'I AM Connectivity & Logistics for Growth will facilitate important dialogue with EU institutions on the current and future policy framework', according to Nik Delmeire, Secretary General of the European Shippers' Council.
The route to the Port of Vlissingen in the Netherlands has been designated as a principal line of the Rhine-Alpine freight corridor.
Indian Railways is undertaking trials carrying reduced-height double-stacked containers by rail.
The EU's INEA agency is providing PKP Cargo subsidiary Advanced World Transport with €5·9m to cover two-thirds of the cost of modernising the Ostrava Paskov intermodal terminal. The three 270 m tracks will be lengthened to 700 m, increasing capacity from 2400 TEU containers at once to 5000 TEU.