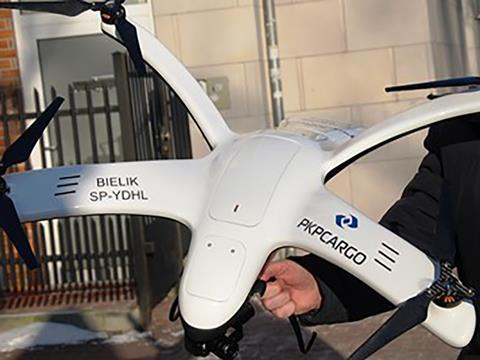 PKP Cargo has expanded its drone fleet with Dron House's Bielik 3·5 kg carbon fibre design. Last year PKP Cargo began using DJI Phantom 3 and Eagle drones to monitor its trains, and has reported a 50% reduction in cargo theft. The operator says it also has gained the ability to undertake remote train inspections. The high definition heat cameras can track a human from up to 1 km.
SCA Skog has awarded Hector Rail a contract to haul round wood to mills in northern Sweden for 10 years from the end of its current contract in December 2017.
DP World has signed a memorandum of understanding with the Kazak government for the development of a rail-served special economic zone at the Caspian Sea port of Aktau.
Gefco has now carried 49 000 vehicles on its regular services carrying new cars between France and the Port of Barcelona, introduced in 2015 and operating on 1 435 mm gauge infrastructure throughout. Cars for the Spanish market or for export to Algeria and Morocco are delivered to Barcelona from the PSA plant in Sochaux, while in the reverse direction GM vehicles produced at Figueruelas near Zaragoza move to Barcelona by road for shipment by rail to Marckolsheim in France.
GB Railfreight and B Logistics have been awarded a one-year contract to move china clay slurry between Antwerpen and a paper mill in Scotland via the Channel Tunnel.
Kansas City Southern, Watco Companies and WTC Industrial have formed a joint venture which will invest US$45m to facilitate the export of petroleum from the USA to Mexico. This will include the construction of a block train terminal at the WTC Industrial Park in San Luis Potosí which will be served solely by Kansas City Southern de Mexico.
The European Commission's Innovation & Networks Executive Agency has signed a €5·9m grant agreement with PKP Cargo subsidiary AWT to fund two-thirds of the cost of modernisation of the multimodal terminal at Paskov in the Czech Republic, close to the Polish and Slovak borders.