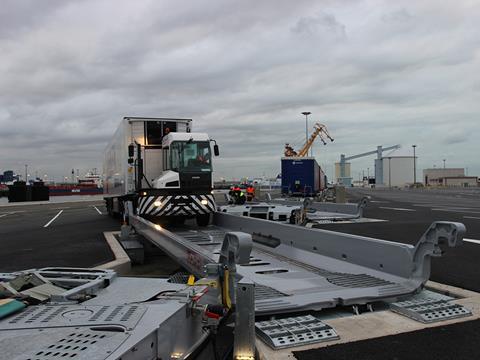 The VIIA Britanica 'rail motorway' service connecting Calais with Le Boulou near the Spanish border resumed operating on February 7. It had been suspended on July 10 2016 after migrants had attempted to gain access to lorry trailers on the approaches to Calais.
The China-Europe Land-Sea Fast Intermodal Transport Route was inaugurated on January 29 with the arrival in Budapest of a train operated on behalf of COSCO Shipping Group carrying containers of Chinese goods including furniture which had been sent by sea from Ningbo to the Greek port of Piraeus, operated by COSCO, and then by rail to Hungary. The-end to-end journey took 26 days.
KTZ Express and Islamic Republic of Iran Shipping Lines are to form a joint venture to provide logistics services between Kazakhstan, Iran and the CIS countries. A joint terminal at the Iranian port of Bandar Abbas would provide access to India and Africa, and terminal facilities are planned for Incheh Borun on the Iran/Turkmenistan border and at Kazakhstan's Caspian Sea port of Aktau.
Russia's First Freight Co has awarded Uralvagonzavod a contract to supply 3 000 hopper wagons this year. These will replace vehicles which have been affected by the government's ban on work to extend the life of older wagons.
Magnitogorsk Iron & Steel Works has taken delivery of an NPM2M electric shunting locomotive produced by TMH's Novocherkassk Electric Locomotive Plant by rebuilding an NPM2 loco, retaining the underframe and bogies. The maintenance interval has been extended from 30 to 45 days and new electronics have reduced energy consumption by 15% to 20%.