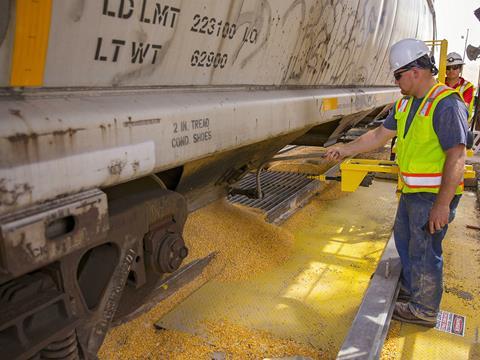 Easyfresh Logistics has undertaken a trial movement of refrigerated containers between Silla near Valencia in Spain and Moerdijk in the Netherlands, using Transfesa facilities at the break of gauge at the Portbou/Cerbère border crossing into France. It is hoped to start a regular service this summer, covering the 1 800 km in 50 h.
Serbian freight operator Srbija Kargo has called tenders for a contract to refurbish 31 Class 461 electric locomotives, financed by an EBRD loan agreed as part of its support for the development of pan-European Corridor X.
Russia's Federal Freight Co has signed a strategic co-operation agreement to lease around 20% of TransFin-M's fleet of open covered, flat and tank wagons. If the co-operation is successful FGK may lease further vehicles. FGK could offer integrated transport services, including at coal terminals owned by customers and subsidiaries of TransFin-M.
United Wagon Co's Tikhvin plant has begun series production of Type 13-6903 container wagons with an increased capacity of 745 tonnes. The cars have an expected service life of 32 years with overhaul every 800 000 km or eight years.
More than 100 representatives of the Japanese business community attended a seminar which Kazakhstan's national railway KTZ held in Tokyo on April 25. The event assessed the potential to develop container traffic from Japan to Europe through the Chinese port of Lianyungang and then by rail.
An intermodal terminal at Can Tunis in Barcelona operated by Setemar has received its first train, operated by Comsa Rail and carrying 30 45 ft swapbodies. Access to the terminal is available on both 1 435 mm and 1 668 mm gauge.
The first rail shipment of grain for more than seven years arrived at the Port of Brownsville in Texas on April 25. West Plains has invested more than $5·5m in the revival, and expects to receive 220 wagons per month. Rail terminal services are provided by OmniTRAX, and future planned enhancements include high speed handling of grain by lorry, rail and ship.
BNSF Logistics has opened an office at Querétaro in Mexico.