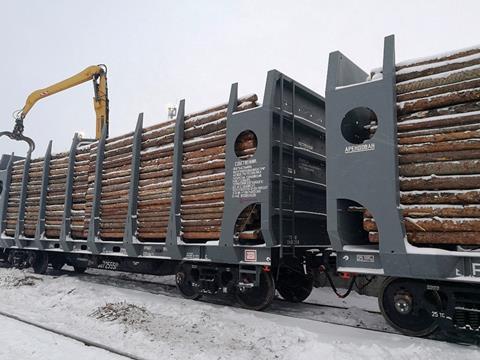 On December 3 United Wagon Company announced that it is to supply 75 high capacity flat wagons to wood processing company Kastamonu. The wagons are being supplied in two batches; the first batch now being delivered has a loading capacity of 122 m3 and the second, to be delivered during 2019, will have a loading capacity of 155 m3.
Roman Skylar, First Vice Minister of Investment & Development in Kazakhstan, has told local media that between January and October, traffic in oil products, grain, metals, coal and chemicals along the Trans-Caspian International Transit Route increased to 2 800 TEU from 160 TEU in the same period in 2017. 'Export rail transport through TITR amounted to 537 400 tonnes and import transport to 254 600 tonnes', he reported.
Canadian Pacific reported record traffic volume in November for grain and grain products shipped to the Port of Vancouver in a single month. More than 17 150 carloads or 1·54 million tonnes were moved, CP said.
The Dutch province of Gelderland is to build an intermodal terminal adjacent to the Betuwe Route near Valburg within a budget of €24m, co-funded by the national Ministry of Infrastructure. The province says that the terminal, close to the existing logistics and industrial estate at Park 15, will enable it to 'finally make use of the Betuwe Route as it passes through the province'.