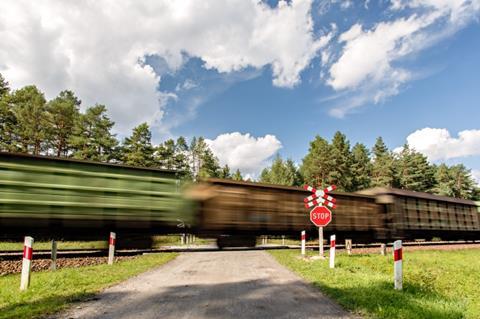 Polish broad gauge line operator PKP LHS has awarded Zakład Automatyki Kombud a contract to upgrade 13 level crossings on its 1 520 mm gauge route. PKP LHS modernised 22 of its crossings in 2017-19, with 30 more planned by 2022.
On September 27 Russia's State Transport Leasing Co announced a contract for United Wagon Co to deliver 5 000 grain hopper wagons by the end of 2020 and 20 000 open wagons by the end of 2022.
DB Cargo has updated its interactive network map, adding an 'intuitive, app-like' menu which adapts the map to provide the information requested by customers. Four categories visually summarise rail links in Europe and Asia, direct links with regular schedules, rapid high-frequency connections between European industrial centres, and custom services for the automotive, chemical, steel and timber markets.
Barcelona's port authority has awarded Ardanuy Ingeniería a two-year framework contract to support the design and procurement of a railway control centre.
Anacostia Rail Holdings Co and Brown Brothers Harriman Capital Partners have formed Precision Terminal Logistics to build, operate and acquire transloading terminals across the USA. PTL has 23 terminals and facilities in 15 states, including selected assets acquired from Arrow Material Services. 'BBH and ARH are two firms with long-standing ties to the railroad industry', said BBH Senior Vice-President Jeffrey Price. 'This invaluable network of relationships and institutional knowledge will be instrumental in PTL's future growth.'
Rail Cargo Group launched a twice-weekly TransFER-branded service between Wien and Melzo near Milano.
OmniTRAX and A&R Logistics have opened the Atlanta Waterfront Terminal adjacent to the Fulton County Railway. To be used by A&R to transfer plastic pellets from rail to road, it has the capacity to unload 10 hopper wagons simultaneously.
Former President & CEO of Canadian National Railway Claude Mongeau was elected as an independent director of Norfolk Southern Corp with effect from September 23, and appointed to the Compensation Committee and the Finance & Risk Management Committee.
Union Pacific's Chief Financial Officer Rob Knight is to retire December 31, and will be succeeded by Jennifer Hamann.