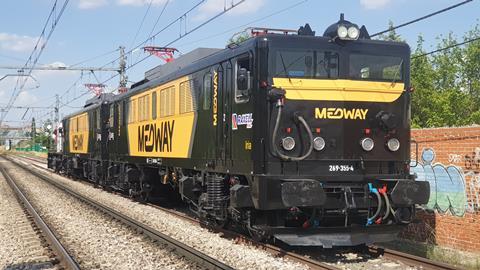 Portugal's Medway Transport & Logistics has acquired a Class 269 semi-permanently coupled twin-unit locomotive for use between Madrid and València in Spain where it current operates Euro 4000 diesel locos. Loco 269.355 dates from 1984, and after being withdrawn by RENFE in 2018 was sold to Raxell Rail, which then hired it to Medway.
Indian Railways has operated a Special Parcel train outside the country from the first time, with 16 vans carrying a total of 384 tonnes of dry chillies from Reddipalem in Andhra Pradesh to Benapole in Bangladesh. As road transport was not possible during the lockdown, so arrangements were made for IR to carry the chillies as parcels rather than bulk freight which required higher volumes. The cost per tonne by Special Parcel Express was Rs4 608, compared to Rs7 000 per tonne by road.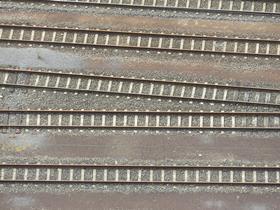 Baden-Württemberg's Ministry of Transport has taken delivery of a report into the future of freight transport in the Land which it commissioned from a consortium led by Heilbronn University of Applied Sciences and including SSP Consult, Railistics, Fraunhofer IAO, SLN Sinsheim, IVK Röhling and IKEM. Rail recommendations include further electrification, expansion of intermodal terminals and projects to eliminate bottlenecks.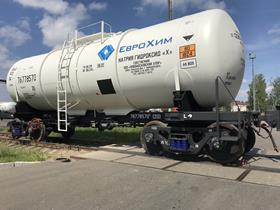 United Wagon Co has delivered 18 Type 15-6900-01 stainless steel tank wagons which fertiliser producer EuroChem's NovomoskovskiKhlor business will use to transport sodium hydroxide. The detachable joints of the hatch covers have sealing elements made of fluoropolymers to resist both friction and the effects of hazardous materials.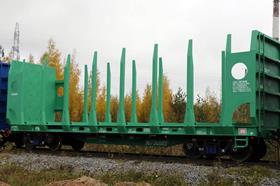 Arkhangelsk Pulp & Paper Mill's transport business Arkhbum has taken delivery of an additional batch of Type 13-6852-02 flat wagons from United Wagon Co for timber traffic, taking its fleet of wagons produced at the Tikhvin factory to 319.
Turkish logistics company Pasifik Eurasia has successfully operated a second container service from China to Turkey. The consignment of 43 containers completed its journey in 12 days, despite the coronavirus pandemic.