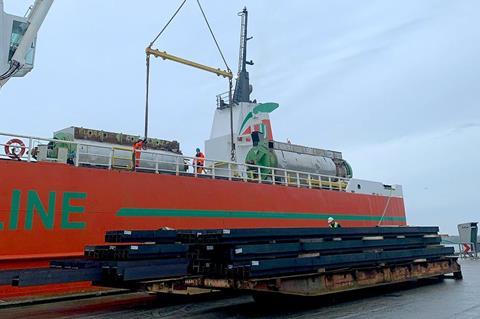 DB Cargo has reinstated rail freight services to the North Sea port of Thyborøn in Denmark, from where goods can travel by sea to Norway which is not on the operator's wagonload freight network. 'We are hoping to turn Thyborøn into the main hub for Norway-bound freight', said Thomas Vestergaard, Head of International Sales at DB Cargo Scandinavia. 'For the last 20 years, there haven't been any official rail transports to Thyborøn. That's changing now. The first transports were a huge success thanks to a high level of flexibility in production and planning, and to Midtjyske Jernbaner and Thyborøn Stevedore, our local partners.'

ADIF has awarded a consortium of Dragados and Tecsa Empresa Constructora a 24-month, €20·4m contract to build a 4∙4 km long, 1 668 mm gauge single track non-electrified branch from the Sevilla to Cádiz main line to serve the quay facilities in Bajo de la Cabezuela in Puerto Real near Cádiz. Financing is to be provided by the national Fund for Land Access to Ports.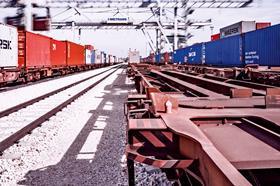 Hamburger Hafen & Logistik's rail subsidiary Metrans has fitted its entire fleet of 3 000 container wagons with composite 'whispering' brakes. 'Rail transport is more eco-friendly than road traffic. However, we cannot just rest on our laurels. We need to keep expanding this advantage. This is why at Metrans we think about every little detail', said Metrans CEO Peter Kiss.
OmniTRAX Inc has appointed Dean Piacente as Chief Executive Officer from February 1. He spent more than 20 years with CSX. 'His depth of Class I commercial experience, record of sustained results, and demonstrated leadership make him the ideal person to lead OmniTRAX's continued growth', said board member David Garin.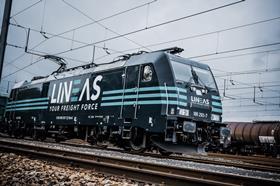 Lineas and PCC Intermodal have increased the frequency of their joint Antwerpen – Poznań Poland Xpress service to five trains per week from February 1. The service was launched at the beginning of 2020, and demand has continued to grow with half of its traffic having previously moved by road. 'We launched regular intermodal services between Poland and Belgium at just the right moment, when the market needed a reliable solution', said PCC Intermodal CEO Dariusz Stefański. 'It was quite risky, especially since no one expected the Covid-19 pandemic and it was difficult to predict what would happen in the market. It was a big test for all of us. I am very proud that we passed it with flying colours.'
Russian Railways has launched a fast freight service transporting chemical products from Kopylovo in Tomsk Oblast to Hamina in Finland, taking 5½ days to cover 4 500 km rather than the 11½ days previously required. Up to 10 trains per month are planned.