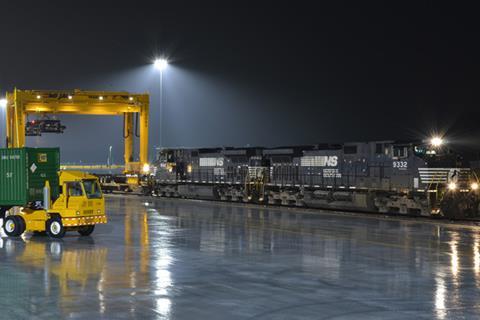 Norfolk Southern is to reopen its Franklin County Regional Intermodal Facility in Greencastle, Pennsylvania, from September 10. NS opened the facility in 2013 as part of its Crescent Corridor initiative to attract freight from road to rail, but it was mothballed in 2019. 'With strong growth in volume driven by e-commerce and a recovering economy, we believe the timing is right to bring our Greencastle facility back online', said Chief Marketing Officer Alan Shaw on August 13.
CargoBeamer is to launch its Calais – Domodossola route on October 4, with an initial four return journeys per week increasing to six from December. Nearly all standard semi-trailers can be transported unaccompanied.
Swiss intermodal operator Hupac has acquired a 4·16% stake in container terminal operator WienCont, alongside majority owner Hafen Wien with 91·68% and CN Logistics & Service Group with another 4·16%. The operator expects to be running around 50 trains/week by the end of 2021 linking Wien with Budapest, Duisburg, Rotterdam, Halkalı, Ludwigshafen, Geleen, Ploieşti and Busto Arsizio. 'This participation is an important step in the expansion of our intermodal network', said Hupac CEO Michail Stahlhut. 'WienCont is located on a growth axis that fits ideally into our development towards southeast Europe.'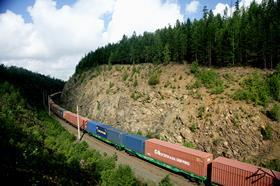 On August 20 the heads of the national railways of Russia, Kazakhstan and Belarus signed a memorandum on the sustainable development of transit freight in Eurasian Economic Union member states and the environmental performance of railways.
The North American Rail Shippers Association will host both in-person and online sessions for its annual meeting in Chicago on September 7–9. 'We know there is still uncertainty about travelling due to Covid-19', said NARS President Tom Tisa. The event will includes presentations from seven Class I railways, key shippers as well as Martin Oberman, Chairman of the Surface Transportation Board.
Russian Railways' RZD Logistics and Kazakhstan's KTZ Express are to co-operate to increase the transport of containerised agricultural products by rail using their joint Agroexpress service.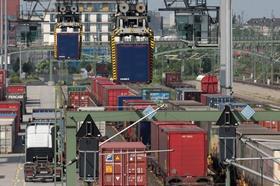 Rail-road intermodal terminal operator DUSS is to deploy Camco Technologies' image recognition technology to register in and outbound lorries and containers at its sites in Frankfurt, Hamburg, Leipzig and Stuttgart. 'We are permanently investing in the automation and digitalisation of our combined rail-road transport infrastructure', said CEO Andreas Schultz. 'The gate automation project is another important building block on the way to automating the entire transport process and towards Terminal 4.0.'
FESCO has operated its first Trans Baltic Bridge full-length container train service carrying goods from South Korea to Europe. The 62 40 ft containers of equipment including lighting, and solar panels were dispatched by regular FESCO sea service from Busan to Vladivostok, and then by rail to St Petersburg for delivery by sea to ports in Germany, the Netherlands and Belgium. The transit time of about 30 days is 10-14 days faster than via the Suez Canal.