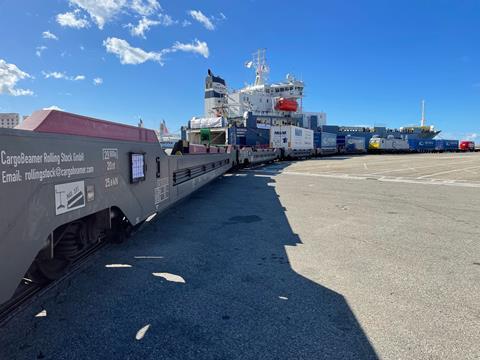 CargoBeamer has run a trial train carrying of craneable and non-craneable semi-trailers from the Marseille Manutention Ro-Ro Terminal at the port of Marseille Fos to Calais. Traction was provided by DB Cargo France, and by CMA Terminals within the Marseille site.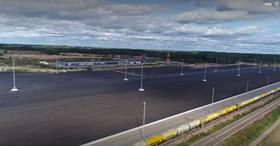 Construction of what is described as the country's first dry port in the Tehola logistics area of the city of Kouvola in the southeast Finland is nearing completion for opening in early 2023, with business plots at the Kouvola Rail & Road Terminal site now available for reservation. 'Train sizes are increasing, and new terminals are needed to handle long trains. This need can now be met in Kouvola', said project manager Tero Valtonen.
After the Council of Energy Ministers voted on September 30 for a regulation proposed by the European Commission to cap the price of electricity for generators at €180/MWh, while using the revenue generated to support final electricity consumers, the International Union for Road-Rail Combined Transport called on member states to declare combined transport as eligible for protection. 'Intermodal freight trains should be granted traction electricity at €180/MWh in every member state. The advantages of combined transport to society and the European economy amply justify this demand', said President Ralf-Charley Schultze.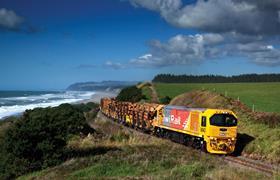 Following a review, the government of New Zealand has announced that operator KiwiRail Holdings Ltd and infrastructure owner New Zealand Railways Corp are to remain state-owned enterprises. KiwiRail Chair David McLean welcomed the announcement, saying 'KiwiRail operates in competitive markets with other freight, ferry and tourism operators, and being a state-owned enterprise enables us to provide efficient services while extending our funding options through commercial financing'.
Watco is to collaborate with Chicago-based firmware startup Telegraph, which integrates electronic data interchange, API and telematics to provide rail customers with visibility of their wagons beyond Watco facilities or tracks. 'Both organisations share an operational grit and customer focus that has unlocked immense value', said Telegraph CEO Harris Ligon. 'We're excited about our shared pursuit of making it easier for everyone to incorporate rail into their supply chain.'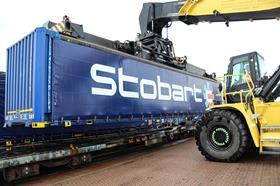 Peter D Stirling Ltd has launched an intermodal service between Mossend International Railfreight Park and iPort at Doncaster, with GB Railfreight as traction provider and carrying Culina Group and Eddie Stobart containers.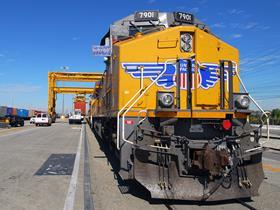 In September Union Pacific issued a $600m green bond offering to fund investments aimed at reducing absolute Scope 1 and 2 GHG emissions and Scope 3 GHG emissions on a well-to-wheel basis from locomotive operations 26% by 2030 from a 2018 baseline, and at reaching net zero by 2050. 'When it comes to finding ways to decarbonise our footprint, every idea is on the table', said Chairman Lance Fritz. 'We are acting now on our most promising avenues.'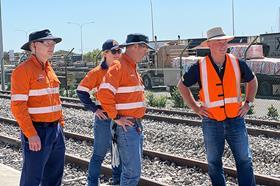 Aurizon Port Services is investing A$5m in the second stage of a multi-modal rail terminal at the port of Townsville in north Queensland, with three sidings totalling 2 km. Construction is being undertaken by Gabrielli Construction, which delivered the A$2m stage one. Aurizon said it sees continued growth in commodities such as copper, lead and zinc, as well as industrial and agricultural products and potentially vanadium and phosphate.
JB Hunt Transport Services has acquired transload operations in Tacoma, Washington and Laredo, Texas. The Tacoma operation will complement a direct container-only service to Chicago launched jointly with BNSF in August.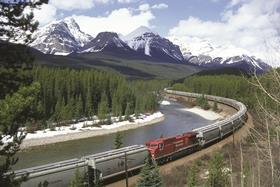 Canadian Pacific has launched a web-based carbon emissions calculator, giving customers greater insight into the carbon footprint of its services. The tool enables complex, tailored emissions calculations and incorporates customer-specific shipping details to calculate route and commodity-specific greenhouse gas emissions.
Norfolk Southern has selected Benesch to provide final track design services for the Chicago Region Environmental & Transportation Efficiency Project EW3-Segment B to install a 3 km additional track and make signalling changes. Other contractors include American Surveying & Engineering, 2IM Group, GSG Consultants, Trinal and Engineering Services Group. 'Dozens of daily freight trains traversing this location must slowly navigate existing Belt Railway Company of Chicago yard tracks — that will all change', said Jeff Page, Engineer Planning for NS Design & Construction.