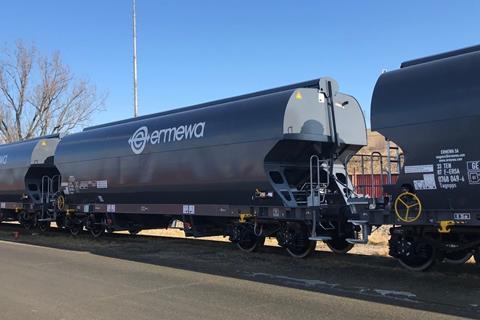 Leasing company Ermewa has handed over the first 25 of 200 new Tatravagónka Tagnpps grain wagons to Rail Cargo Logistics. The rest are to follow by the end of 2023. The wagons have a capacity of 95 m³ and 69·7 tonnes, with GPS devices and provision for digital automatic couplers.
The European Bank for Reconstruction & Development announced on November 24 that it would provide Serbia's state-owned freight operator with a €43m loan to finance the purchase of new locomotives and wagons, and the overhaul of existing wagons. EBRD said this would enable Srbija Kargo to improve the quality and volume of services and encourage greater use of rail rather than 'currently dominant' road. EBRD will also provide technical assistance to strengthen corporate governance, upskill the workforce and increase safety.
VTG has expanded its FastTrack short-notice wagon booking service, with rakes of five Rens four-axle flat wagons with side flaps and stanchions for heavy goods such as steel products and prefabricated parts now available at the Senftenberg and Hagen yards. VTG also provides block trains with 90 ft container wagons for ad hoc transport from and to the port of Hamburg, enabling customers to book a 88 TEU block train at any time.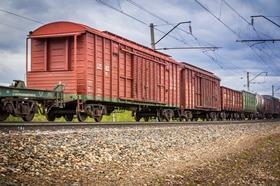 Russia's Freight One has announced its exit from the small cubic capacity covered van market, and plans to sell 4 562 vans of around 120 m3 capacity. It said the decision was made 'due to the fact that it is impossible to plan activities in this segment and carry out company's responsibilities to its clients given the ever increasing number of cases of the company's wagons being expropriated to carry out government traffic'.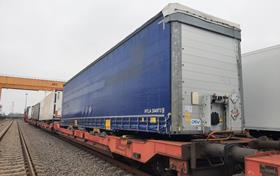 Lithuania's LTG Cargo has operated a trial service carrying semi-trailers from Kaunas to Germany from where partner operators provided onward transport to the port of Trieste. Twice-weekly services to and from Italy are planned, with potential traffic including freight being moved between Turkey and Scandinavia. 'We see potential in this direction and plan to offer our customers regular freight services to Italy', said CEO Eglė Šimė.
Union Pacific has joined the Business Ambition for 1·5°C alliance of more than 3 000 companies pledging to taking action to limit global warming.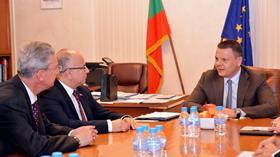 Bulgaria and Turkey are working to reduce border crossing times for freight trains, including prioritisation of intermodal services and an increase in cross-border capacity to 24 trains/day.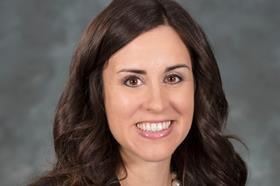 Norfolk Southern's Vice-President Audit & Compliance Susan Stuart is retire on March 1 2023. Jacqueline Gray, Assistant Vice-President Sourcing, has been appointed as her successor with a transition to Audit & Compliance from January 1. Gray began her career at KPMG's audit group, before joining NS in 2008 as Manager Financial Reporting. She has since held roles including Assistant Treasurer, AVP Accounting Operations and AVP Financial Planning & Analysis.
RM Rail has developed a Type 15-1232-05 lightweight aluminium alloy tank wagon for carrying concentrated nitric acid, which it says offers similar corrosion resistance to pure aluminium in aggressive environments while being more than twice as strong. It has also developed a AKC-SPG42.7 aluminium alloy tank container for transporting liquefied natural gas.