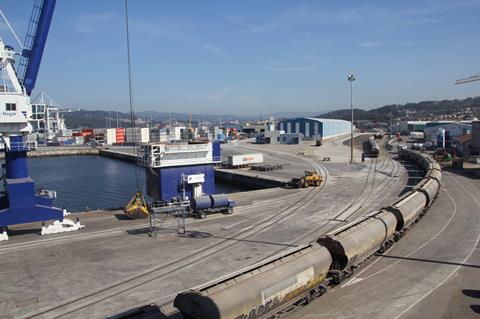 Thales has been awarded a €2m, 15-month contract to automate control and operation of turnouts on the 7 km rail network in the Spanish port of Marín.
Saudi Arabia Railways has called for expressions of interest in the supply from Q1 2026 and subsequent maintenance of 25 main line locomotives and 900 molten sulphur and acid tank wagons. SAR will give preference to suppliers which present plans for local production, and looking ahead expects to order around 10 000 wagons by 2030.
KTZ Express, RZD Logistics and Transport and Logistics Centre of Turkmenistan have signed a memorandum to create a single logistics operator to operate more competitive prices on the eastern route of the International North-South Transport Corridor linking Russia with India and the Middle East.
Canadian Pacific Kansas City and Knight-Swift Transportation Holdings have announced a multi-year agreement to provide intermodal transport services connecting Mexico, the USA and Canada. 'As Knight-Swift transition their Mexico-US traffic to CPKC starting in mid-May, we will focus on growth between Chicago, Texas and Mexico markets', said CPKC Executive Vice-President & Chief Marketing Officer John Brooks on April 25 .
During the TransRussia trade fair on April 15-17 United Wagon Co signed agreements to supply up to 3 000 Type 15-9993 tank wagons to Western Petroleum Transportation, 700 Type 19-9549 grain hoppers to MRT and 300 to the Aston Food Group, and 300 Type 19-9835-01 mineral hoppers to Logistics 1520.
ÖBB Rail Cargo Group now offers a twice-weekly fixed-schedule TransFER service between the BILK terminal in Budapest and the Croatian port of Rijeka, where it has opened an office to provide with port agency services for both imports and exports.
Klaus Wessing will take over as Head of Sales & Operations at VTG on July 1. He is currently Managing Director at VTG Tanktainer, and will take the same role at VTG Rail Europe and VTG Rail Logistics.
After 16 years as CEO of Genesee & Wyoming Inc, Jack Hellmann has been named Executive Chairman of both the North America and UK/Europe boards from September 1. He will also be appointed Vice-Chair of Brookfield Infrastructure, the controlling shareholder of G&W. Michael Miller will succeed Hellmann as CEO responsible for North American operations, and as previously announced Tim Shoveller is to join the company as CEO of UK/Europe operations by late summer. Mike Peters has been named Chief Customer Officer for G&W North America.