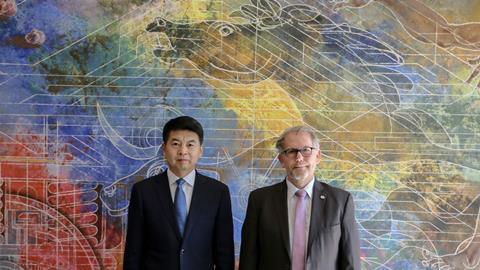 A delegation from China's National Rail Administration visited the Intergovernmental Organisation for International Carriage by Rail on June 19 to discuss China's possible accession to OTIF.
Canadian Pacific Kansas City and Americold Realty Trust has announced a collaboration to co-locate Americold warehouses on the CPKC network. The first facility would be in Kansas City, Missouri. 'This partnership with CPKC leverages the strengths of both companies and enables us to offer solutions together that we would not be able to offer separately', said Americold CEO George Chappelle.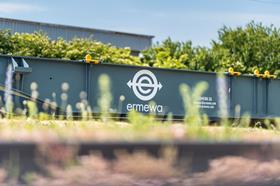 LTG Cargo Polska has leased 40 Tatravagónka Sgmmnss container wagons from Ermewa for use on services from Lithuania to Gdańsk and Duisburg. Ermewa says it is currently making substantial investments in the intermodal sector to meet growing demand for 40 ft container wagons.
Russian Prime Minister Mikhail Mishustin signed a decree on May 29 to create federal state enterprise Railways of Novorossiya covering the Russian-occupied Donetsk, Luhansk, Zaporizhzhia and Kherson regions of Ukraine. The Russian government said this would 'make it possible to build a unified logistics system in these four regions, upgrade the fleet of wagons and locomotives, and create a unified system for managing the transportation process'. Railways of Novorossiya is under the jurisdiction of Russian federal railway agency Roszheldor, and has its head office in Donetsk.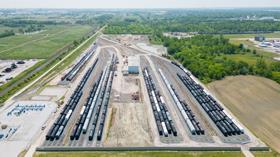 Cando Rail & Terminals has completed work to expand the Cando Sarnia Terminal which it purchased in 2021. This has increased the capacity of the site in the Sarnia Chemical Valley region of Ontario from 85 to 550 wagons.
Uralchem has awarded United Wagon Co a contract to supply 500 Type 19-9835-01 mineral hopper wagons this year for the transport of mineral fertilisers. They will have a capacity of 77 tonnes or 101 m³, 6 tonnes more than previous designs.
Canadian Pacific Kansas City has updated its carbon emissions calculator to cover its post-merger rail network in Canada, the USA and Mexico, enabling customers to estimate the potential greenhouse gas emissions reductions from using rail rather than road.
DB Cargo UK and DB Cargo France have begun transporting 100 m lengths of rail from British Steel's site at Scunthorpe in the UK to Muizen, northeast of Brussels, for use by Belgian infrastructure manager Infrabel. This will involve the operation of an average of one train every month for the next four years.
The North American Rail Shippers Association officers for 2023-24 are President John Meyers, DM Bowman Company; First Vice-President Kate Luce Bourgeois, Mississippi Export Railroad; Second Vice-President Ray Hufnagel, Plastic Express; Treasurer Torri Stuckey, CSX; Secretary Harry Zander, Patriot Rail; and Immediate Past President Bruce Mann, Port of Houston.