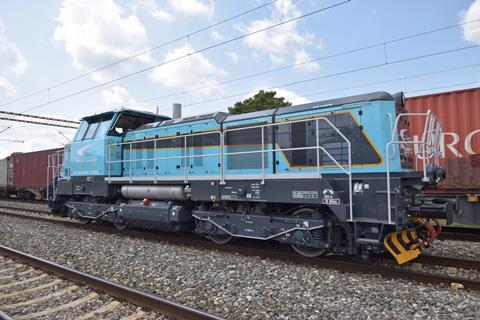 TŽV Gredelj has completed work on the first of 18 locomotives which it is to rebuild for ZSSK Cargo. In June 2022 the Slovakian freight operator and CZ Loko reached a €20m agreement to rebuild 20 Class 742 locos to the EffiShunter 742.6 standard, with two completed at CZ Loko's Jihlava works and the remaining 18 to be rebuilt by TŽV Gredelj.
The first commercial freight train used the Pajares Variante high speed line between Pola de Lena and La Robla on September 1, as part of testing of the route. The RENFE Mercancías train carrying 810 tonnes of steel products from Avilés and took 42 min to traverse the 49·7 km Variante, 1 h 18 min less than on the line over the Pajares pass.
The Community of European Railway & Infrastructure Companies, European Rail Freight Association and International Union for Road-Rail Combined Transport have jointly called on the European Parliament and the European Council to maintain a integrated approach to considering the Greening Freight Transport legislative package proposed by the European Commission in July. CER, ERFA and UIRR said amendments to the Weights & Dimensions Directive should not be considered without seeing the Combined Transport Directive amendment proposal, and the new CountEmissionEU Regulation is also closely linked.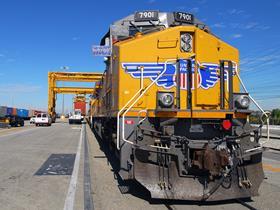 Union Pacific has used the $590·8m proceeds from green bonds issued in September 2022 for $265·5m of enhancements to its existing fleet, including reducing emissions and diesel fuel consumption; $220·9m to expand network capacity and promote modal shift; $78·1m for new rolling stock, electric vehicles and equipment; $19·9m of renewable energy investments; and $6·4m of energy efficient lighting.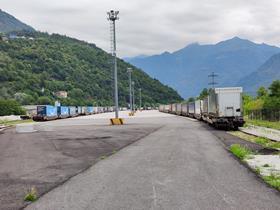 Work to expand throughput at the CargoBeamer terminal in Domodossola from two to five trains per day was completed at the beginning of September. This included extending the three existing tracks for reachstacker loading and shunting to 700 m each, asphalting more of the surface area, and creating additional parking zones for semi-trailers. In the next stage, CargoBeamer plans to install its horizontal transshipment technology, turning Domodossola into a central hub for trans-Alpine intermodal traffic.
Scott Moore is to retire as Union Pacific's Senior Vice-President, Corporate Relations & Chief Administrative Officer on October 1.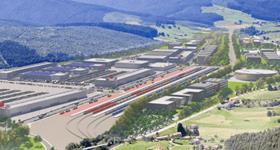 A foundation stone was laid on September 5 to mark the start of construction of a 140 350 m2 logistics facility in Piélagos near Santander, 12 km from the port of Reus, 11 km from the airport and 10 km from the existing yards at Muriedas and Torrelavega. The €120m project is being undertaken in three phases, with Vías y Construcciones and Siecsa having a €40m contract for the first phase.
Short line and terminal group Jaguar Transport Holdings has taken over operation of Union Pacific subsidiary Loup Logistics' Dallas Transload Solution site. It has three transloading tracks and storage space for customers without their own rail facilities, with current traffic including steel and lumber.