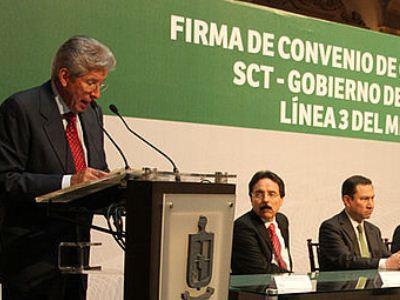 MEXICO: A funding agreement that will see the federal government provide 5⋅69bn pesos to build the first phase of Monterrey Metro Line 3 was signed by Secretary of Transport & Communications Gerardo Ruiz on February 21. According to Ruiz, work on the project will begin later this year.
Serving a total of nine stations, Line 3 will run for 7⋅5 km from Barrio Antiguo to Hospital Metropolitano to the northeast of the city centre. Except for a 550 m underground section between Barrio Antiguo and Line 2 at General Zaragoza and a 300 m transition, the new route will run on viaduct for 6⋅65 km.
Operated with a fleet of 22 cars, Line 3 is expected to carry over 280 000 passengers a day, saving 12 million man-hours and 30 609 tonnes of CO2 emissions a year. The new route will provide interchange with Monterrey's two existing metro lines and the Ecovía busway, as well as TransMetro bus feeder services from Diego Díaz de Berlanga, Aldolfo López Mateos and Rómulo Garza northeast of the city centre.