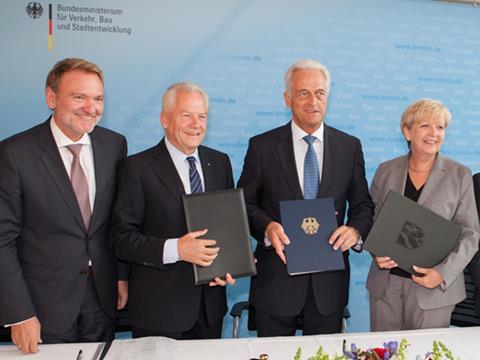 GERMANY: A funding agreement for a €1·5bn upgrade of the 73 km Emmerich - Oberhausen line which links the Betuwe Route and North Sea ports with the Ruhr area and Rhine Valley freight corridor was signed on July 24.
A third track is to be laid from Oberhausen Hauptbahnhof to the Dutch border via Emmerich, removing a bottleneck on the corridor. Level crossings are to be replaced, electrification equipment renewed, ETCS installed and 75 km of noise-attenuating walls built.
The federal government is to provide €746m for the works, including €51m from TEN-T sources. The Land of Nordrhein-Westfalen is to provide €450m, with the remainder of the funding coming from DB resources and third parties.
Federal Transport Minister Peter Ramsauer said expanding one of the most important freight corridors in Europe would help encourage a shift of freight from road to rail, and create additional capacity for passenger traffic.