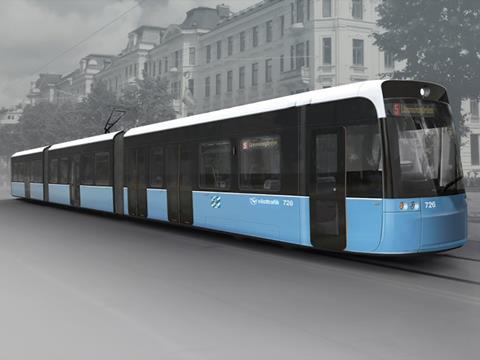 SWEDEN: A consortium of Bombardier Transportation and electrical equipment supplier Vossloh Kiepe has been formally awarded a contract to supply 40 Flexity trams to Göteborg by mid-2021.
The new trams are designated Type M33. The €140m firm order announced on October 11 includes 30 Type A unidirectional trams 33m long and 10 Type B bidirectional vehicles of the same length. Bombardier said its share of the contract is worth €97m. The order is being financed by the Västra Götaland region, with the vehicles to be owned by Kommunleasing AB and leased to operator Göteborgs Spårvägar.
There is an option for up to 60 more trams to be ordered in batches of at least 10 vehicles until 2026. These can be of types A and B, or a Type C which would be a 45 m long unidirectional car offering more capacity but requiring some infrastructure modifications.
The Flexity trams will gradually replace the current fleet and provide additional capacity needed to accommodate rapid population growth.
The design will be adapted to the city's existing infrastructure and the local climate, including double glazing on all windows and doors to prevent condensation, and the provision of electromechanical wheelchair boarding devices.
Göteborgs Spårvägar had selected the Bombardier consortium as preferred bidder on April 15, but final award of the contract was delayed when Škoda Transportation submitted a legal challenge which has now been withdrawn. Alstom, CAF, Pesa and Stadler had also bid.
Following Göteborgs Spårvägar's problems with the M32 trams supplied by AnsaldoBreda, the operator has specified that an initial two vehicles should be delivered in spring 2019 and complete 20 000 km of running in service before acceptance.