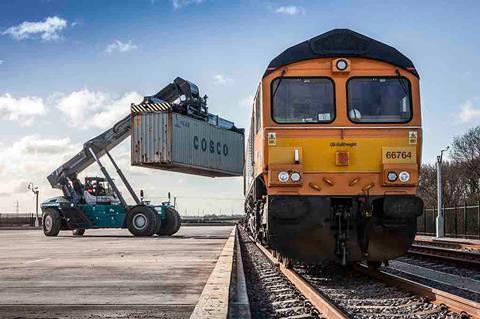 UK: GB Railfreight is to lease 32 Ecofret2 triple-platform container wagons from VTG Rail UK, which said it had made 'significant investments' in the latest version of the Ecofret design.
The wagons are being built at WH Davis's Shirebrook site, with the first 16 scheduled for delivery in late 2020 and the rest in early 2021.
The order is intended to increase the efficiency of GB Railfreight's services by maximising TEU capacity per train. The wagons will have a new bogie with enhanced suspension and damping arrangements.
'The Ecofret2 wagons will be an excellent addition to our fleet', said GB Railfreight Managing Director John Smith on January 13. 'VTG has really revolutionised container transportation and this model will help us to provide greater and more efficient services for our customers.'
The operator is currently reviewing proposals for the supply of further intermodal wagons.