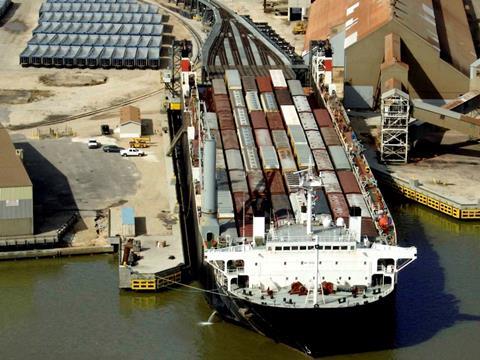 NORTH AMERICA: Genesee & Wyoming announced on September 5 that it had formed a 50:50 joint venture with SEACOR Holdings to own CG Railway, the operator of a train ferry service between Mobile, Alabama, and Coatzacoalcos in Mexico. Terms of the joint venture were not disclosed.
Recently acquired by SEACOR through its purchase of International Shipholding Corp, CGR operates two vessels each with capacity for 115 wagons. Its four-day service 'presents a faster and more cost-effective alternative to the traditional land route' between the southeast of the USA and southeast Mexico, says G&W.

Established in 2001, the train ferry service currently carries around 10 000 carloads a year of commodities including chemicals, refined sugar, steel and paper. In the short term, the joint venture plans to invest in the existing vessels to improve service reliability.

'We are committed to improve the rail ferry's on-time performance by leveraging SEACOR's expertise in marine operations', said CGR Senior Vice-President Kevin Wild. 'Combining reliable service with the cost efficiency of short-sea shipping and the 50% shorter transit time versus land routes, we create a compelling alternative for customers moving goods between the eastern USA and Canada to and from central and southern Mexico.'

The CGR business also comprises a US Class III railway in Mobile that connects with G&W's Alabama & Gulf Coast Railway, as well as BNSF, Canadian National, CSX, Kansas City Southern and Norfolk Southern. Coatzacoalcos is served by Mexican freight operator Ferrosur, now part of the Ferromex network.

'CGR creates a natural extension of our rail services to reach the rapidly-growing market in central and southern Mexico', said G&W Chief Commercial Officer Michael Miller. 'We look forward to working with Ferrosur and Ferromex to expand the current customer base.'