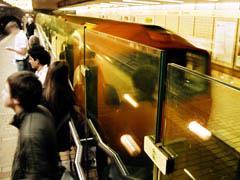 UK: Driverless operation, new rolling stock and infrastructure upgrading are set to go ahead on the 1 220 mm gauge Glasgow Subway under a £290m renewal programme announced by Strathclyde Partnership for Transport.
Scotland's Finance Secretary John Swinney confirmed on March 9 that following 'careful consideration' of the outline business case, 'the Scottish Government has agreed to provide a substantial capital contribution', which would provide 'sufficient assurance for SPT to raise funds from other sources and progress with the Subway modernisation'.
SPT's intention is to replace the existing fleet of 41 small-profile cars supplied in the 1970s and install communications-based train control to permit fully-automatic operation; its business case envisages driverless trains. Stations will be refurbished with improved accessibility and smartcard ticketing.
The work is expected to go ahead in 'the next five years', although the current rolling programme of station improvements will continue. There are no plans to extend the 10 km circular route which opened in 1896.
'We are delighted to have a firm commitment of support', said SPT Chairman Jonathan Findlay. 'We look forward to receiving further details of the financial contribution on offer'.