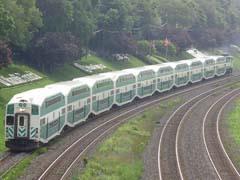 CANADA: Greater Toronto transport authority Metrolinx announced a study into electrifying the entire GO Transit rail network on May 26. As the first stage, an external advisory committee of independent technical experts community representatives and passengers will be established to advise on the terms of reference.
'This committee's advice will be important as we move forward in designing the study to guide us in converting GO Transit's urban rail network from diesel to electric', said Rob Prichard, President & CEO of Metrolinx.
Work on the study will begin immediately, for completion in early 2010.
GO Transit has announced a seasonal train service between Toronto and Niagara Falls, running four times a day on weekends and holidays from June.