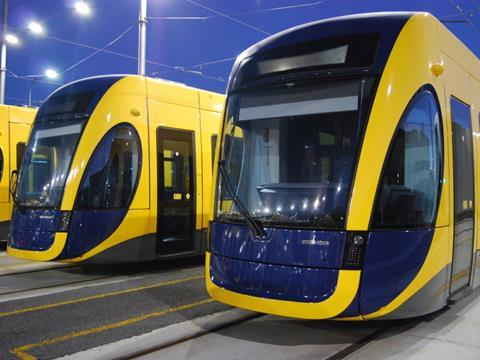 AUSTRALIA: Bombardier Transportation is to supply four additional Flexity trams to the Gold Coast under a A$25m contract announced on November 25.
The order forms an option that was part of the original contract signed in 2011 between the Queensland government and the GoldlinQ consortium of KDR Gold Coast, McConnell Dowell Constructors, Bombardier Transportation and Plenary Group. This included the supply of 14 trams.
The additional trams are to be used on the Stage 2 extension to Helensvale. The 7·3 km northern extension is scheduled to be completed in time for the 2018 Commonwealth Games, which the city is hosting. Federal funding for the construction of Phase 2 was confirmed in October.
The trams will be manufactured at Bombardier's sites in Bautzen and Vienna. Deliveries are due to begin in August 2017. Like the existing fleet, the seven-section vehicles will be 43·4 m long and 2 650 mm wide, equipped with Bombardier's Mitrac propulsion system, Flexx bogies and surfboard racks.