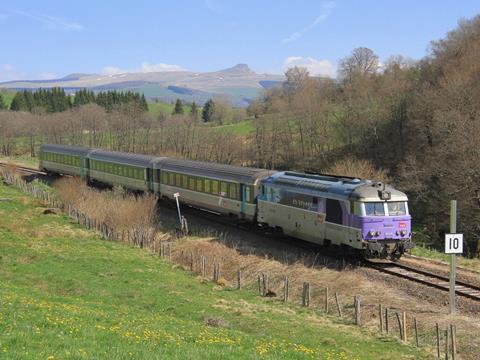 FRANCE: On July 21 the government announced the implementation of its 'route map' for the Trains d'Equilibre du Territoire, the conventional long-distance passenger services operated by SNCF that include overnight and inter-regional trains. While TET services still perform an essential role in some parts of the country, the government says that they no longer meet the needs of passengers in terms of both service frequency and quality, traffic having fallen by 20% since 2011 and the operating deficit expected to be more than €400m this year.
The government has decided that it will retain responsibility for three key 'high performance' routes, mainly serving cities off the high speed network, which are Paris – Orléans – Limoges – Toulouse, Paris – Clermont-Ferrand and Bordeaux – Toulouse – Marseille. While the government works with SNCF Mobilités and SNCF Réseau on the future specification, services are to be kept at their current levels in 2017.
By 2025 these three routes are to receive new rolling stock, on which the government has committed to spend €1bn. SNCF is to go out to tender by the end of 2016 for a fleet offering 'very high' levels of passenger comfort as well as onboard facilities adapted to the needs of long-distance passengers, including cycle spaces and wi-fi. The new trains should offer 'maximum reliability' and a maximum speed of 200 km/h, although the government says that rolling stock capable of operating on high speed infrastructure may be deployed on Bordeaux – Toulouse – Marseille.
An 'unprecedented' programme of rolling stock renewals is due to begin in 2017 on the Nantes – Bordeaux, Toulouse – Hendaye and Nantes – Lyon routes, which are also to remain the responsibility of central government. For other TET routes, the best future governance arrangements are to be determined on a case-by-case basis in close consultation with the regions, with these discussions to be placed on a formal basis by October 15.
Already responsible for funding and specifying TER local services operated by SNCF, the regions would be able to improve more rail services within their territories by becoming responsible for those TET services that play a greater 'regional' role, according to the government. Citing the potential benefits of 'simplification and clarification', the government points to the agreement signed with Normandie on April 25.
With overnight services representing 25% of the TET deficit but only 3% of traffic, and each passenger-journey requiring on average over €100 of public subsidy, the government has decided to retain only two routes, Paris – Briançon and Paris – Rodez/Latour de Carol, where rolling stock is to be refurbished. With its call for expressions of interest in operating the other routes having generated no response, the government has confirmed that it will no longer fund these operations.
The government says that it remains open to any offer to take on these services, but in the absence of any such proposal or 'third-party financing' SNCF Mobilités will be obliged to withdraw them on October 1. The Paris – Tarbes – Hendaye service will be maintained until high speed infrastructure opens as far as Bordeaux on July 1 2017. Originally due to be withdrawn on October 1, the Paris – Nice service has been granted a 12-month stay of execution until the end of the summer season in 2017.
A new 2016-20 TET operating agreement reflecting these decisions is due to be signed by the government and SNCF Mobilités 'this autumn', backed by a total of €1∙5bn to be invested by the state in new rolling stock by 2020, as well as the €2bn to be spent on upgrading conventional infrastructure over the same period. Placing the passenger 'at the heart of decision-making', the new agreement will also aim to improve TET finances by encouraging a more dynamic commercial policy, productivity improvements on the part of SNCF and greater transparency in how costs are allocated, similar to the TER agreements signed with the regions.