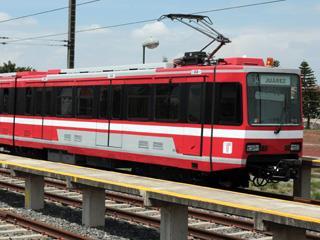 MEXICO: Governor of Jalisco state Aristóteles Sandoval has signed off tendering documents for the project to build Line 3 of the Guadalajara light rail network.
The 21·5 km route runs on a northwest-southeast alignment and is expected to cost nearly 17·7bn pesos. Around three-quarters of the alignment will be elevated, with just over 5·3 km in tunnel. If the planned construction timescale is maintained, the line is expected to open in 2017.
End-to-end journey time is expected to be 33 min with 18 stops, using a fleet of 18 trainsets able to run at a maximum speed of 90 km/h. Each train will be able to carry 500 passengers. Peak-hour services are to operate at 5 min intervals, reducing to every 10 min off-peak, and traffic is expected to reach 233 000 trips a day.
Operator Siteur says that the scheme will create 7 000 direct jobs during the construction phase.
Details of the project were announced at a seminar organised in London by UK Trade & Investment on March 31.