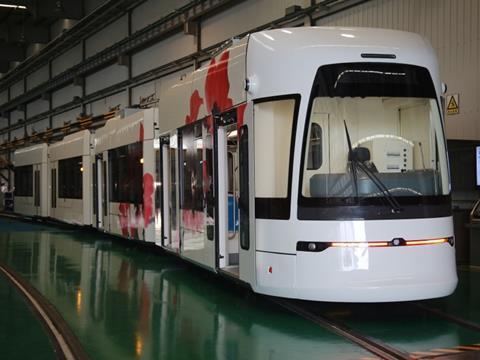 CHINA: CSR Zhuzhou has unveiled what it says is the first tram to be powered only by supercapacitors.
In June 2013 Guangzhou Metro Corp subsidiary Guangzhou Tram Co signed a contract with CSR Zhuzhou for seven 100% low-floor trams. The first two will be produced in Zhuzhou, with the subsequent five assembled in Guangzhou. The first vehicle is currently undergoing static testing before being shipped to Guangzhou for dynamic tests. The trams are due to enter passenger service in December.
Siemens is supplying propulsion and control, braking and auxiliary systems, including powered bogies, under a technical licensing and co-operation agreement.
The onboard supercapcitors will be automatically charged from a ground-level power supply at stops. This will normally take between 10 sec and 30 sec. The trams are able to run for up to 4 km between charges. According to CSR Zhuzhou, the braking energy recovery efficiency is more than 85%. Mobile charging vehicles are to be used in case of faults at the charging points.
The four-section tram is 36·5 m long with a capacity of 386 passengers. Floor height at the entrance is 325 mm. There are five sets of doors, 10 'priority seats' and two wheelchair spaces. The stainless steel bodied trams are capable of a maximum speed of 70 km/h, a maximum gradient of 60‰ and a minimum curve radius of 25 m.
The trams are to run on a circular route in the Haizhou district of Guangzhou. The first 7·7 km, 10-stop section will link Canton Tower and Wanshengwei and is due to open in late 2014.