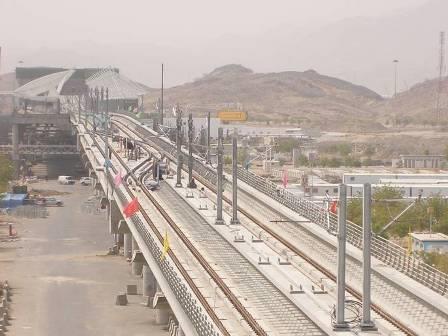 SAUDI ARABIA: Phase I of the Al Mashaaer Al Mugadassah Southern metro line has entered revenue service, following an inspection by Abdul Rahman Al-Shahwab, Director General of Projects at the Ministry of Municipal & Rural Affairs, on November 13. However, the service is initially limited to pilgrims from Saudi Arabia and the Gulf states.

The 18 elevated km route with nine stations has been built primarily to transport pilgrims to the holy sites at Mina, Muzdalifah and Mount Arafat, near Makkah, during the annual Hajj. The metro is intended to reduce road congestion and will replace around 4 000 buses.

Although designed as a driverless metro, the line is initially operating at 35% capacity with manual driving and automatic train protection. During the Hajj, which lasts from November 25 – 29, operator Serco is running a fleet of 12-car trainsets — each with capacity for 3 000 people — capable of carrying around 25 000 passengers per hour per direction. Pilgrims wait in two control zones, each large enough to hold 3 000 passengers, before entering the 300 m long platforms, which are equipped with Westinghouse platform screen doors to control boarding. Tickets for use during the Hajj cost 250 riyals or 100 riyals on the last day.

The 6·7 bn riyal turnkey project has been built by Chinese construction company CRCC and will eventually be worked by 204 type A metro cars supplied by CNR Changchun; 132 cars have arrived so far and deliveries are due to be completed in December 2010. Maximum capacity of 72 000 passengers/h per direction should be achieved in May 2011 once the Thales Seltrac CBTC system becomes fully operational, enabling the line to run in driverless mode with onboard supervision.

The Southern Line will also serve pilgrims visiting Makkah to perform Umrah and during Ramadan and will eventually be extended to the Grand Mosque. A further four parallel metro lines serving the holy sites are envisaged, creating a network which would connect the area to Jeddah airport and the future Haramain high speed line linking Makkah to Madinah and Jeddah.