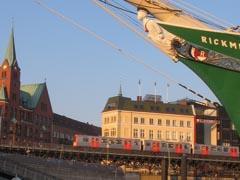 Hamburger Hochbahn AG is to bring its rail and bus operations together into a single holding company in a bid to accelerate its expansion programme.
The firm, which operates a number of regional rail services in partnership across Germany in addition to its Hamburg bus and metro business, hopes to persuade a private sector firm to take a 49% share in the newly-formed holding company, named BeNEX.
Hochbahn Chairman Günter Elste says that the company 'needs to establish a clear and coherent expansion strategy before positioning itself as a significant, independent player in the transport sector'. A partnership with another company will help Hochbahn to gain the critical mass required to compete in an increasingly competitive market, Elste believes.
Unable to fund an expansion programme alone, HHA is looking for a 'financially strong, long-term investment partner' to take a minority stake in the business to fund further growth beyond the company's home region.
However the local authorities insist that revenues generated by the Hamburg network will not be used to cross-subsidise operations outside the city, with separate businesses likely to be created under the holding company to reflect these differing operations.