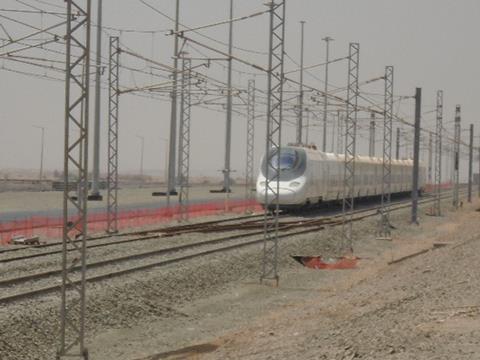 SAUDI ARABIA: On January 16 Spanish Development Minister Íñigo de la Serna welcomed the ratification of the November 2016 agreement between the Saudi Arabian authorities and the Al Shoula consortium, which sets a revised timescale for the completion of the Haramain High Speed Rail Line between Makkah, Jeddah and Madinah.
De la Serna had been part of the delegation accompanying King Felipe IV on his state visit to Saudi Arabia, during which the minister met with Saudi Railways Organization President Dr Rumaih Mohammed Al-Rumaih. According to the Spanish Ministry of Development, Al-Rumaih particularly welcomed the appointment of Jorge Segrelles as the new President of the Al Shoula consortium on a full-time basis.
When the agreement was concluded, partial operations on the 444 km high speed line were expected to begin in December 2017 for full opening in March 2018. The Haramain project is worth €6∙73bn to the Spanish rail sector, according to the ministry.