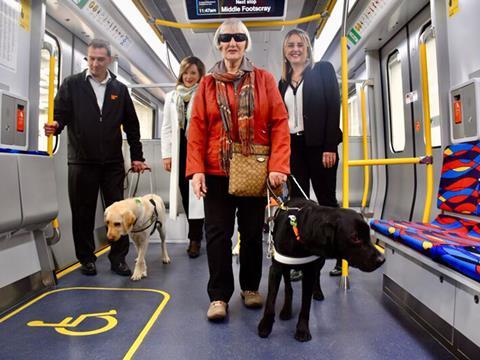 AUSTRALIA: The Evolution Rail consortium of Downer, CRRC and Plenary has produced a full-scale mock up of the 65 electric multiple-units for Melbourne suburban services which it is to supply and maintain under the Victorian government's High Capacity Metro Trains PPP contract.
As part of the design process, the 39 m long mock-up representing most of two vehicles including a cab has been evaluated by drivers, technical specialists, the Public Transport Access Committee and Metro Trains Melbourne, as well as passenger, accessibility and focus groups representing a cross-section of the public.
Entry into service is planned for mid-2019. The 1 600 mm gauge EMUs based on CRRC's Type A design will offer more spaces for wheelchairs and mobility vehicles than the current Melbourne fleet, with improved real-time passenger information, a greater number of hand grabs and rails and improved CCTV.
'We've conducted a comprehensive stakeholder engagement programme over a five-week period focused on evaluating the train design through the mock-up', said Evolution Rail CEO Phillip Walker on November 22. 'Stakeholders have had a chance to walk through and experience certain features of the train and their feedback is now helping us further refine and validate the train design. This represents the first major contractual milestone for the HCMT Project that sees Evolution Rail closer to finalising the design of the trains that will be the biggest and best on Melbourne's metropolitan network.'