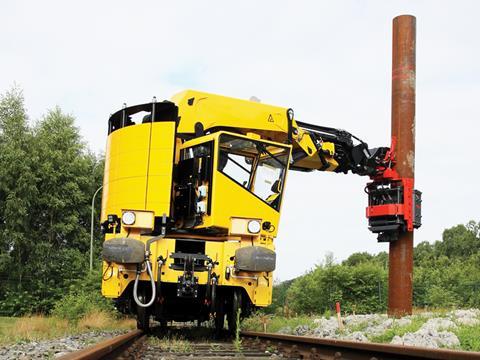 UK: Windhoff has completed a £40m High-Output Plant System 'factory train' ordered by UK infrastructure manager Network Rail, which will use it to install 25 kV 50 Hz electrification on 380 route-km on the Great Western Main Line from London to Swansea in 2014-18.
OPS consists of 23 vehicles with a combined length of 500 m. They will normally work as five separate trains or consists, designed to undertake the various stages of electrification at different speeds. Each consist is powered by Multi-Purpose Vehicles with a cab and an MTU power pack.
The five consists will perform work in sequence. First on the job will be a piling rig with two MPVs carrying Movax vibro piling heads which vibrate steel piles into the ground, two wagons carrying piles, and an MPV with a Fambo hydraulic percussion hammer for hard ground. Next is the excavation and concrete batching consist. Then follows the structures consist which will erect masts, portal booms and double-track cantilevers. It is intended to carry 30 masts for erection during a single overnight possession.
The ancillary conductor consist will then follow, installing earthing wires, current return wires and small components such as registration arms. Last in the HOPS is the contact and catenary consist which pays out these wires under tension. Another part of this consist will install catenary wires under low bridges, neutral sections, and finally record the height and stagger of the contact wire.
A novel feature of the HOPS is a robust steel structure that can be erected on either side of wagons in the various consists. Its purpose is to stop any part of the equipment protruding into the loading gauge of the adjacent track. This means that HOPS can be deployed while an adjacent track is left open to traffic, probably under a temporary speed restriction, but even that is being questioned. This means that trains can continue to run at night while HOPS is working.
For the Great Western Main Line electrification, HOPS is to be based near Swindon, moving to worksites under its own power at up to 95 km/h.
'Around 200 people will work on the HOPS project overall', says NR. They will be employed by Amey, which will be responsible for operating the factory train, working six nights a week.