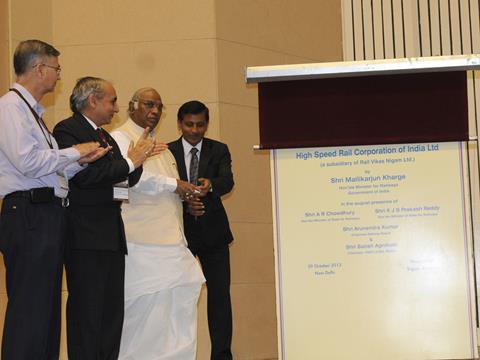 INDIA: Minister of Railways Mallikarjun Kharge officially launched High Speed Rail Corp of India on October 29. The subsidiary of state-owned railway project promoter Rail Vikas Nigam Ltd has been established to develop high speed corridors suitable for operation at speeds up to 350 km/h.
HSRC will prepare studies and specifications for the proposed Mumbai - Ahmedabad high speed line, which a preliminary study has costed at around Rs650bn. It would also look at other corridors selected by the government, and support the latter in finalising financing and implementation models.
The launch of HSRC formed part of the 'High Speed Rail Travel: Low Cost Solutions' conference held in New Delhi on October 29-30. This brought together suppliers including Alstom, Bombardier, CAF, Siemens and Talgo as well as experts from 12 countries to discuss how high speed rail could be made cost-effective for projects in the developing world.
Kharge told the conference that Indian Railways is also interested in rolling stock which could permit maximum speeds to be increased to between 160 and 200 km/h while requiring only 'marginal' changes to existing infrastructure. Higher speeds might require dedicated tracks, which could be prohibitively expensive for a country such as India where land would need to be acquired and fencing the railway would have 'its own set of associated issues'.