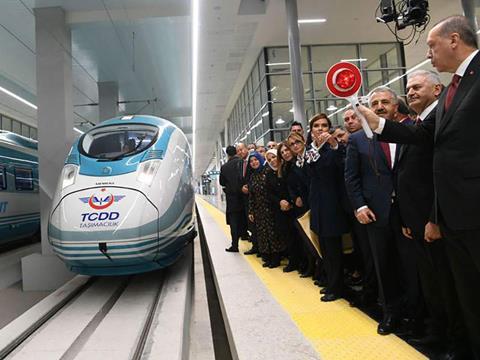 TURKEY: National railway TCDD opened a dedicated high speed station in Ankara on October 29, with the inauguration celebrations attended by President Recep Tayyip Erdoğan and Prime Minister Binali Yıldırım, a former transport minister.

Comprising three island platforms with six running lines, the station has been built adjacent to the capital's existing main station, which is to remain in use for conventional and suburban trains.

The station was constructed in two years at a cost of €214m under a build-operate-transfer model. A Cengiz-Limak-Kolin consortium was lead contractor and will manage the station for a period of 19 years and 7 months.

TCDD reports that the station will be able to handle 50 000 passengers per day. It is served by the nearby Maltepe and Ulus metro stations, while the M4 metro line which opened in September, is to be extended to the new hub from Atatürk Kültür Merkezi.

Among the non-railway features of the eight-storey station are a 134-room hotel, 200 apartments for rental and a car park with spaces for 1 900 vehicles. In total, the station covers 194 000 m2.

TCDD Tasimacilik runs high speed services from Ankara to Gebze, east of Istanbul, and to Konya; the Turkish government plans to complete 4 000 km of new main lines by 2023; these will be a mix of fast mixed traffic routes and purpose-built high speed infrastructure.