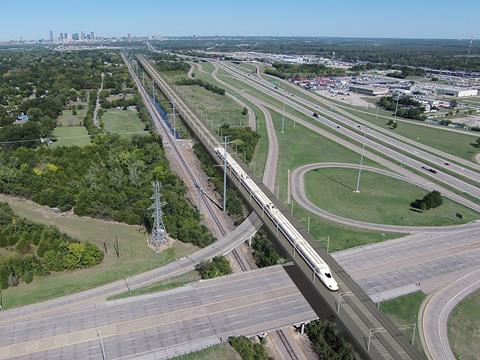 USA: Privately-financed high speed line project promoter Texas Central has appointed Fluor Enterprises and The Lane Construction Corp to refine the construction planning, scheduling and cost estimates for the project, and to support procurement.
It is envisaged that the two contractors would also design and build the project following financial close, although they have no equity or ownership stake and will not be involved in land acquisition. The proposed 385 km high speed line using eight-car trainsets based on Central Japan Railway's N700 design would offer a 90 min journey time from Dallas/Fort Worth to Houston with a stop in the Brazos Valley. Environmental studies are currently underway, and Texas Central envisages that construction could begin in late 2018.
The contracts with Fluor and The Lane Construction Corp 'underscore the attention the Texas Bullet Train has received from world class firms, wanting to be part of a project that will revolutionise travel here and generate long-lasting local economic benefits', said Texas Central CEO Carlos Aguilar on August 14.
'This will be America's first true high speed train, and we're eager to be part of the next generation of sustainable infrastructure', said Robert E Alger, President & CEO of The Lane Construction Corp. 'The project will create benefits for generations to come while providing an innovative transportation alternative for Texas commuters.'
'We will use our industry experience and proven track record of delivering high speed rail projects to provide high value services for this significant infrastructure project', added Hans Dekker, President of Fluor's infrastructure business.
Read more about the Texas Central project in the July 2015 issue of Railway Gazette International, available to subscribers in our digital archive.