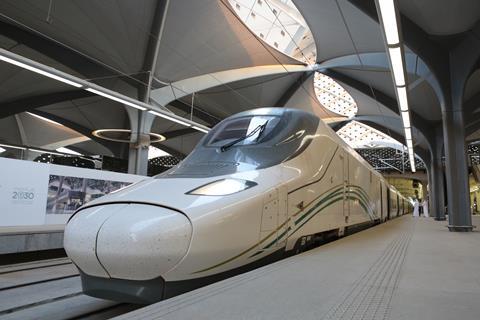 SAUDI ARABIA: More than 28 000 Saudi women have applied for the first 30 train driving jobs to be open to them.
The drivers are being recruited by Spanish national operator RENFE, which has a 12-year contract to operate the Haramain High Speed Rail line between Makkah and Madinah in partnership with infrastructure manager ADIF and engineering consultancy Ineco.
More than half of the applicants passed the first phase of online screening, which looked at education and English language skills. Further tests and interviews will now be undertaken to select those who will undergo theoretical and practical training. This is to be provided by RENFE, and run will run for almost a year from March 15.
More than 1 300 people are directly employed on the Haramain High Speed Rail line, with the majority being Saudis.
The first drivers underwent training in Madrid in 2013-14, ahead of the official opening of the 453 km line in September 2018.
The training programme has since been expanded to include the Saudi Railway Polytechnic in Qassim. More than 80 local train drivers have so far been trained by RENFE, and another 50 are currently undergoing training. RENFE's local subsidiary has also recruited and trained more than 400 Saudi nationals to work in the railway's commercial and operating departments.