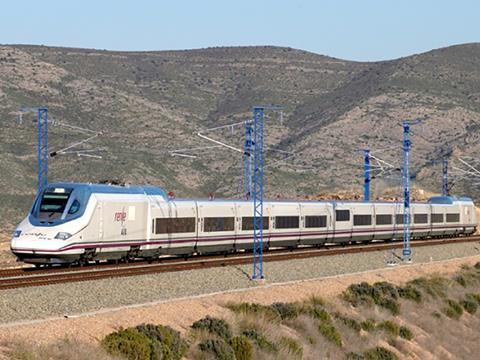 SPAIN: Prospects for on-rail competition in the high speed market have increased, with Madrid-based international construction group Acciona expected to take a majority stake in open-access promoter Intermodalidad de Levante SA.
Founded by Valencia-based regional airline Air Nostrum, ILSA has applied to launch a twice-daily Madrid – Montpellier service, calling at Zaragoza, Barcelona, Perpignan and Narbonne. It argues that this would tap into an under-served cross-border market, but it could also compete head-to-head with state operator RENFE for domestic business. The proposed service was approved in September by competition authority CNMC, which concluded that the main objective was the international traffic.
ILSA had hoped to lease Alstom S100 trainsets similar to those used by RENFE on Barcelona – Lyon services, but those trains which had been allocated to leasing business RENFE Alquiler have reportedly now been transferred back to the parent company. ILSA is therefore looking to acquire its own fleet of 17 trains at an estimated cost of around €500m, which would also position it for the liberalisation of the domestic Spanish high speed market in 2020. Bringing in additional backers would be essential to fund the new train procurement.
Acciona has already established a presence in the transport sector with its Acciona Mobility subsidiary operating a fleet of more than 1 000 shared electric motorcycles in the Madrid region. Acciona would take a majority holding in ILSA, with Air Nostrum shareholders including Executive President Carlos Bertomeu and ILSA Director General Víctor Bañares retaining 23%. A further stake would be held by an established rail operator as an international partner.
The group is understood to be in negotiations with DB and Italo-NTV, as well as SNCF, which is seen as a potential front runner following the reported collapse of talks with RENFE over possible participation in the Spanish operator's planned EVA low-cost high speed service.