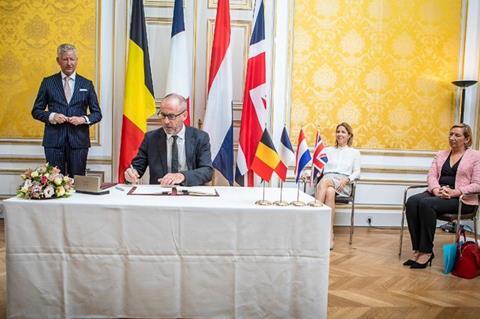 EUROPE: Eurostar is set to launch direct services between Amsterdam and London later this year, following the signing on July 7 of four-country agreements covering the legal and security arrangements.
A date for the start of through services has not yet been finalised, the high speed train operator told Railway Gazette International. In February it had been hoped that through services would start from April 30.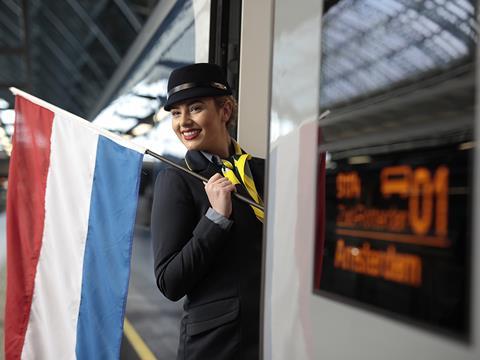 While Eurostar has operated through services from London to the Netherlands since April 2018, passengers travelling towards the UK have been required to catch an earlier Thalys service and then disembark at Brussels Midi to pass through border and security checks before boarding a Eurostar train.
The treaties signed in Brussels on July 7 add the Netherlands to a 1993 agreement between the UK, France and Belgium which enables passengers to pass through juxtaposed checks by border officials from both the departure and destination countries before boarding their train.
UK Border Force officials will in future be stationed in Amsterdam and Rotterdam, and there will be 'further co-operation' between the police forces of the four countries to address cross-border crime. The departure country's government will be responsible for security at stations and elsewhere, as well as for screening passengers.
'This important treaty shows that while we have left the European Union, our links with Europe are stronger than ever', said UK Home Secretary Priti Patel. 'It will enable vital security and immigration checks to be carried out in the Netherlands, protecting the UK's border and providing faster and more efficient journeys for passengers.'
'Due to coronavirus these are challenging times, but we also have to plan for the near future', said Dutch State Secretary for Infrastructure & Water Management Stientje van Veldhoven. 'The new direct train service enables us to travel from Amsterdam to London in just over 4 h. It's fast and convenient, and without the hassle of disembarking in Brussels for border and security checks. A Eurostar train has roughly twice as many seats as an average aircraft on the Amsterdam – London route and CO2 emissions are significantly lower. The train service to London therefore is a sustainable and competitive alternative to flying.'