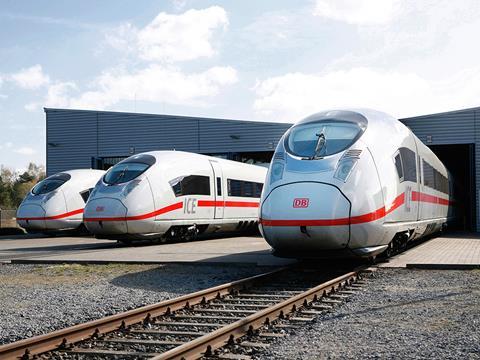 GERMANY: Deutsche Bahn has awarded Alstom a €30m contract to retrofit its Atlas ETCS onboard equipment to 17 Class 407 Velaro D ICE3 high speed trainsets used on international services.
Approval will be progressively obtained for the ETCS Baseline 3 Release 2 equipment to be used in Germany, on cross-border routes to Switzerland, in Belgium and in France.
This would enable the trainsets to use ETCS on the future high speed line between Stuttgart and Ulm and on France's LGV Est between Paris and Strasbourg, as well as in Belgium.
The equipment will be integrated into the vehicles' control technology at Alstom's sites in Salzgitter and Braunschweig, supported by various of the company's other sites and in co-operation with Siemens which built the trainsets.
Alstom will then be responsible for servicing of the control and signalling systems for six years.
'Together with Deutsche Bahn, we are setting another important milestone for interoperability in the European rail network', said Dr Jörg Nikutta, Alstom's Managing Director for Germany & Austria, on September 23.