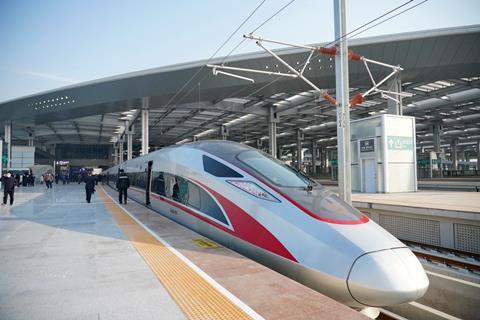 CHINA: The high speed line linking Beijing with the Xiong'an New Area in Hebei province was completed on December 27 with the opening of a 91 km extension from Beijing Daxing International Airport.
The 47 km first phase of the inter-city railway between Beijing Xi and Daxing International Airport was opened in September 2019, with trains operating at 250 km/h. The extension has been designed for 350 km/h operation, and China Railway subsidiary Xiong'an High Speed Railway Corp says the earlier section will also be uprated to the higher speed.
Opening of the line has reduced journey times between Beijing Xi and Xiong'an from 90 min to 50 min, with the Fuxing EMUs covering the 91 km from the airport in just 19 min. End to end journey time is expected to be reduced to 36 min once the maximum speed on the first phase has been raised.
Located about 100 km southwest of Beijing, Xiong'an New Area was authorised in April 2017, and has been under construction since early 2019. According to the government, the 'green, intelligent and livable' city will be 'a new engine for the modern economic system'. To be completed by 2035, it will occupy a total area of 1 770 km2 across Rongcheng, Anxin and Xiongxian counties, east of Baoding.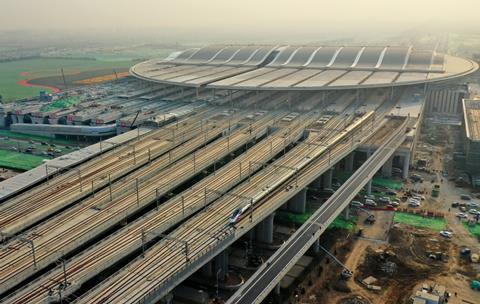 The city is expected to become a hub for development in the Beijing-Tianjin-Hebei region, comparable to the Shenzhen Special Economic Zone and the Pudong New Area in Shanghai. The government intends to transfer both business and 'non-essential' activities to Xiong'an, in the same way that administrative departments of the Beijing municipal government have been moved to Tongzhou.
Located near Baiyangdian Lake, the 12-platform high speed station at Xiong'an has been built by China Railway Construction Engineering Group, and is reportedly one of the first major infrastructure projects to be completed in the new city. Occupying a 47 ha site, it is designed 'to appear like dew on a lotus leaf'.
The station's oval roof has been configured to funnel daylight into the main waiting area. Reflecting the city's green credentials, it incorporates a photovoltaic power generation system, which is expected to produce an average of 5·8 million kWh per annum, avoiding an estimated 4 500 tonnes of CO2 emissions.
In the longer term, the new line will be extended south towards Shijiazhuang, connecting with various high speed routes to facilitate the operation of direct services from Xiong'an to other parts of the country.