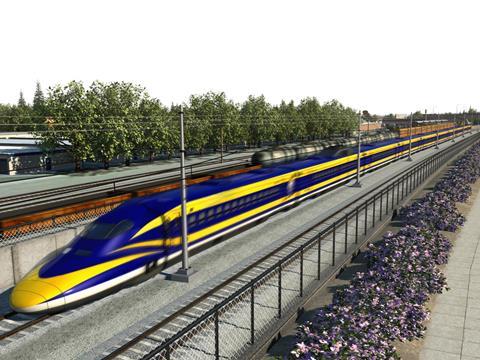 USA: Issuing its Draft Business Plan for 2016 on February 18, the California High Speed Rail Authority set a target date for launching revenue-earning services between 'Silicon Valley and Central Valley' by 2025.
With construction work now underway along an alignment covering approximately 160 km in the state's Central Valley, CHSRA reports that the overall capital cost of building a state-wide 1 100 route-km high speed network is now $64·2bn, as against $68·4bn estimated in its April 2012 business case. That envisaged through services giving a 'one seat ride' over the 832 km from Anaheim via Los Angeles to San Francisco starting in 2029 using a mix of new line and shared running over existing conventional railways, including the Caltrain commuter rail route between San Jose and San Francisco.
CHSRA says its draft 2016 plan 'provides the path forward for the construction and operation of a high speed section using existing funds, which will generate revenue within the next decade'. It will initially prioritise completion of the route northwards from Bakersfield to San Jose, leaving the technically more challenging southern section from Bakersfield to Los Angeles until later.
As well as initiating revenue-earning operations by 2025, the plan also highlights two other core objectives for taking the programme forward.
The first is a series of 'strategic, concurrent investments' to 'connect state, regional and local rail systems', delivering 'immediate mobility, environmental, economic and community benefits'. Among the proposed measures is the upgrading of the Burbank – Anaheim corridor, including the delivery of priority grade separation work at Rosecrans Avenue/Marquardt Avenue and the Southern California Regional Interconnection Project, plus improvements at Los Angeles Union Station.
The third objective outlines how CHSRA intends to secure by 2017 the environmental approvals needed to construct the remainder of its planned network.
'This plan presents a clear path forward within available funding to deliver the system as approved by California voters in 2008', said CHSRA Chief Executive Jeff Morales. 'By constructing the line between the Silicon Valley and the Central Valley, while also making significant investments in southern California's passenger rail systems, high-speed rail will become a reality in this state in the next 10 years at a lower cost than previously estimated.'
The draft plan is open for public consultation until April 18.